London: UEFA's restrictions spoiled Champions League final atmosphere?
source: StadiumDB.com; author: michał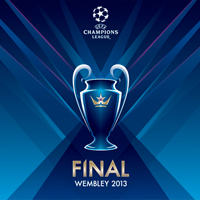 Fans of Bayern and Borussia had great plans for Saturday. A choreography that covers over 20,000 fans is something able to make any game memorable. But no such thing is planned any more, because of UEFA's policy of not disturbing corporate clients.
Some 86,000 people are expected at Wembley on Saturday. At least 48,000 are coming from Germany as each finalist club received 24,000 tickets for their respective end zone. Obviously, thousands more are travelling to London for their taste of the final, some with tickets for neutral sections, some hoping for public viewing and celebration after the game.
The stadium is already decorated with crests of Bayern and Borussia, while numerous marketing events across London take place to increase the interest in what's to unveil this weekend. But this article is about things that won't unveil. In case anyone hoped for a great tifo on any side, like some of these by Bayern and Borussia embedded in the text, there's little chance for that. Make that 'zero chance'.
Borussia's ultras group The Unity wrote on May 18 that they'd been expecting difficulties with any presentation in the stands on Saturday, knowing how problematic it was for them in 2012, when they fought Bayern in domestic cup final at Berlin's Olympiastadion. But now, as they wrote, "DFB [The German FA] isn't comparable with UEFA" in terms of restrictions.
The group had no trouble with fitting this stunning tifo under their own roof at Westfalenstadion back in April, but ay Wembley even stricter policies apply.
Fans emphasize that a long list of regulations make any choreography for such games hard to be approved, resulting in their prepared show being left in Germany and awaiting more welcoming times, for which The Unity apologized.
Bayern fans know something about trouble with approval by UEFA, as their huge presentation for Champions League semifinal against Lyon back in 2010 (below) had to be done twice. First massive supply of cardboard pieces hadn't been accepted, so fans had to buy a new shipment of 'safer' materials.
In London there's more waiting, though. Perhaps the most noticeable impediment is the location of both sides' fans. Each group received allocations for end zones, but not for the middle tier, which is dedicated to corporate clients, called by many in England the 'prawn sandwich brigade'. They don't sing, don't take part in final choreos, often don't actually support any of the finalist clubs.
This means not only ban on any large flags that might obstruct corporate viewers' view, but also any coordination between fans of Bayern sitting in the bottom tier and top tier will be very hard and the very same thing goes for Borussia.
This problem had been widely noticed by English supporters in the past and even earned new Wembley criticism from respected media outlets for lack of atmosphere. Will German fans manage to get some of their Bundesliga heat inside Wembley? Saturday evening will tell!