Greece: Hooligans tried to damage their own pitch
source: ekathimerini.com; author: michał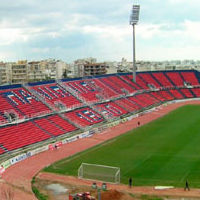 When information about Panathinaikos hosting their play-off at Panionios's stadium was announced, radicals threatened to make the pitch unusable to relocate the fixture. And so they did, but in the end the game was played anyway.
Yesterday's play-off between Panathinaikos and Skoda Xanthi was played at Nea Smyrni in Athens, the home ground of Panionios.
However, there was a threat of postponing or relocating the game, as nails and paint were found spread over the pitch just hours before the match. The incident happened already after morning inspection of the pitch.
Already yesterday the police arrested 30 people in connection to the incident, but had to release them due to lack of evidence. The arrests were prompted by a statement of radical group Panthers, who threatened beforehand to destroy the pitch if authorities don't relocate the fixture.
Similar problem appeared at Panionios's stadium back in 2010, when the pitch was devastated with holes before AEK's match. Local radicals don't want any team other than Panionios to play host at Nea Smyrni, especially their Athens derby rivals.
Eventually, however, yesterday's game was held at the stadium, allowing Panathinaikos to win 3:0 over Skoda.