Brazil: Maracanã price tag still growing
source: Spiegel.de; author: michał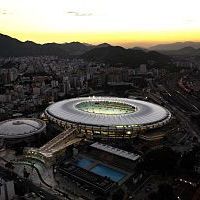 Where's the roof on this one? We may still be treated to increases as construction is hardly done. Just on Monday state authorities approved another large increase of the budget, according to SID.
Along the 2010 budget, redevelopment of Brazil's largest and most famous stadium was expected to cost some €228 million (or $299m). Already then some were questioning the value, since only roof expansion, lower tier seating and corporate infrastructure were on the agenda.
However, over the course of works various alterations were made to the initial concept, some prompted by construction issues. A major drawback was inability to expand the old roof. It was too weak to support additional weight, so had to be replaced by membrane completely.
With other problems and vast delays the budget has now grown to €425 million ($558m), almost double the early estimate. Last piece of this impressive cost was approved on Monday by state authorities, who granted further €75.8 million.
But as the reconstruction isn't done just yet, there may still be trouble ahead and more criticism. And no wonder, because the stadium, paid with taxpayers money, is to be privatized.