Rio de Janeiro: Media criticize "new" Maracanãs debut
source: Jornal do Brasil, Folha de Sao Paulo, ABC TV; author: michał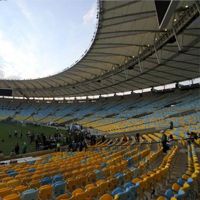 Holes in the floor, many installations not working, flooded VIP zone and on top of that stadium staff trying to prevent people from taking photos of the flaws. Attempts to make situation not look bad seem futile as journalist list flaws…
Saturday's friendly game between friends of Ronaldo and friends of Bebeto was nowhere near the great games Maracanã has seen. Only a third of the stands was opened and the extreme rush of contractors (over 4 months behind schedule) was apparent.
Fans weren't entering through electronic turnstiles, because these aren't operating yet. There are no ticket boxes, too. Numerous areas aren't finished or furnished, including stands. Many seats either lack numbers or are mounted askew or not mounted at all – just laid to pretend it's all in place. Also, some of the glass barriers aren't in place yet, the roof also shows need of further work.
The list goes on, but most of these flaws aren't a real problem in the long term. This goes for flooding in the VIP area, which can be fixed without much effort. But holes or gaps in floors sound more serious.
And most of this was expected to go unnoticed by organizers, apparently. Some staff were trying to prevent journalists taking pictures of the affected areas. Worth keeping in mind, this includes only a third of the stadium that was actually prepared for the game.
Efforts to keep protesters away from the stadium also didn't end well. Some banners were smuggled inside the stands, with most of the angry crowd opposing privatization and reduction of Maracanã's social role staying outside. Eventually the people, many of whom were women and children were forced away by police forces with tear gas, rubber bullets and batons, not earning more sympathy for authorities at all.