Porto Alegre: No more avalanche, but no seats as well
source: StadiumDB.com; author: michał
After almost three years the decision is here: the Geral terrace at new Arena do Grêmio will be opened again without installing seats. This will allow capacity to remain above 60,000, but the famous avalanche goal celebration is over for fans. Or so it seems.
The Geral terrace at Arena do Grêmio remains closed since January 31, when 7 fans were slightly injured after fence gave way and made them fall from first row into concrete moat before their stand.
Recent weeks were devoted to finding a way of safe use in the future, though many commentators questioned the amount of time needed for a solution.
It was almost certain supporters will have to lose their new sacred place, created against FIFA and domestic recommendations. The stand holding over 5,100 people was created as a terrace specifically to allow fans to create 'avalanches', famous stampede goal celebrations.
During numerous consultations and discussions various recommendations were put forward, like the one of fire department, suggesting installation of seats. However, this would mean capacity decrease and potential increase in ticket pricing.
Finally, yesterday saw a meeting of all interested parties, including public administration officials, all safety and security forces, the club and even Geral, the fan community. It was decided that the decision over Geral stand's future should be left with the club, not imposing an all-seater rule.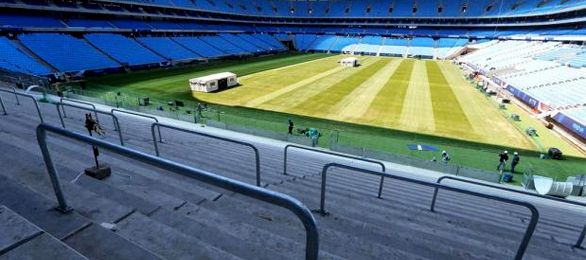 As a result, Grêmio decided to retain the terrace, but more crash barriers are expected to be installed within the next 45-60 days. Capacity will stay intact, but the avalanche will be effectively blocked from happening.