Porto Alegre: Accident during avalanche at Grêmio Arena
source: Globo.tv / Reuters / StadiumDB.com; author: michał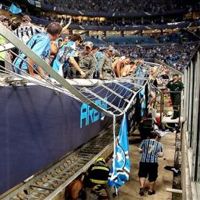 Seven people were taken to hospital as they fell several meters down at the new stadium in Porto Alegre. None of them was seriously hurt, thankfully. The fall was caused by a steel barrier, which didn't withstand fans pressure.
Yesterday's Copa Libertadores game between Grêmio and Equadorean LDU was brought to a stop after an hour. Just after the home side scored the only goal in 62nd minute, fans at the Geral stand created 'the avalanche', traditional way of goal celebration, with most people at the stand running down the terrace.
Though it wasn't the first avalanche at the newly opened Grêmio Arena, this time a steel barrier at the front of the stand didn't withstand the crowd pressure and bent down, allowing for several people to fall several meters down, into the moat created for fans not to invade the pitch.
In total, seven people were taken to hospitals, but thankfully all injuries proved to be minor and so all were soon discharged.
Grêmio decided to include a standing terrace at their new stadium to allow for the avalanche to continue as a club tradition, beloved by many fans. Despite FIFA not supporting the idea, Plarq Arquitetos were asked to strengthen the Geral stand for it to take the pressure of crowd running down the terrace.
It's unknown yet, why the steel barrier gave way. Clearly, though, the stand's overall construction wasn't challenged and only that single element may prove faulty.
The game was stopped for a few minutes, but later finished, with hosts winning on penalties (LDU also won 1:0 in their home leg).