Poland: Zabrze stadium delayed once more
source: Sport / Roosevelta81.pl; author: michał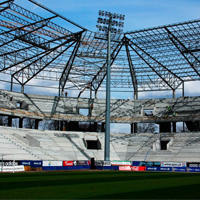 First three stands of the new 32,000-seater in Zabrze were to be delivered in just several days. But it's been known for months that it's not possible. Now it gets worse, as even the new September deadline isn't within contractors' reach.
On April 30 we were to see all three new stands of the Ernest Pohl Stadium ready for opening. In theory, at last. The deadline wasn't realistic for months as general contractor Polimex-Mostostal was experiencing financial problems in 2012 and for some time almost halted all works.
It wasn't clear how long the delay will be, but in March the municipality of Zabrze and Polimex-Mostostal signed an annex to their initial contract, prolonging works until the end of September. Despite good progress on site, even this deadline now proves not feasible.
During yesterday's board meeting the municipality of Zabrze admitted that early 2014 sounds more like a plan. With Polish league restarting in late February, this seems to be the new opening time, even though some optimistic scenarios envisage a December game possible.
Polimex-Mostostal suffered no consequences for their previous delay in delivery of the PLN 192 million (€47m / $62m) structure and it seems most likely this will still be the case now.
Construction of the new stadium in Zabrze has been divided into two phases, allowing home side Górnik to play here throughout construction. But with all delays it will be over 2 years with only a 3,000-spectator main grandstand, causing the club matchday revenue to drop dramatically.