New stadiums: Copiapó, Curicó, Quillota
source: StadiumDB.com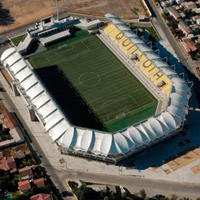 Sounds exotic? It should, because many people have no idea how many great stadiums are being built in Chile. Today we take a peek and show you three of them, but as soon as we get more photos for use, more will come!
OK, in all honesty we also had no idea that the plans implemented in Chile are so impressive. The country launched a nationwide program of stadium redevelopment ahead of their bicentenary in 2010, aiming at each region having a modern facility. Currently another program is ongoing, seeing further changes and aiming at holding Copa America soon. Very soon even: in 2015! But before we give you a better look at the big venues of Copa America, here are some of the smaller ones.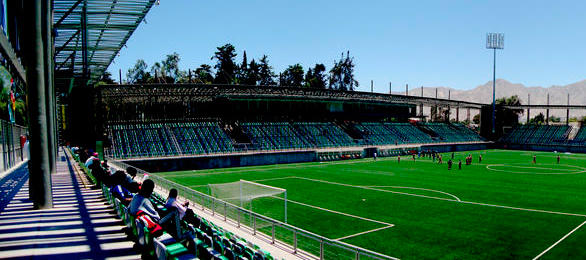 Its predecessor was built in 1960s in the very same spot, but this is the two's only connection. Authorities of Copiapó were even considering changing the location to make way for a mall, but the decision was changed once authorities were able to use federal funds of the bicentennial project of stadium redevelopment.
Design and construction of a new stadium in this site was carried out by Socovesa company, who managed to meet all requirements and prepare a very interesting plan. The new stadium envisaged façades and roof made of strip-weaved fabric (providing shade rather than rain protection) in natural colours. Local stone was also used for construction and native patterns appear in the design as well. The strip-weave canopy over stands extends onto a shady plaza nearby, symbolically connecting the stadium with local park.
Construction took some 2 years, ending in November 2011. After opening the half-sunken stands are now used mostly by Batallón Albiverde, fans of local football side Deportivo.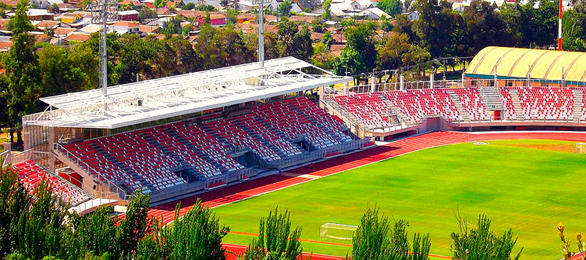 The stadium is part of a larger complex, biggest in the 150,000-inhabitant city of Curicó. La Granja is the name of the entire centre, with tennis courts, velodrome, swimming pool and gymnasium
Until 2009 it had only two small stands on western and eastern sides. Initial plans were to build a new west stand with additional curved sections in 2009, but the plan was postponed to 2010. Once finished, this supplied the stadium with first ever covered grandstand (using solar power with photovoltaic panels) and raised capacity to 8,000. Eventually (most likely in 2014) similar changes are planned for the east side as well, giving the stadium 12,000 capacity.
Day-to-day use is provided by local side Curicó Unido, whose passionate supporters usually occupy the east block. Away section has been transferred from a temporary section to the south into the north-western curve, built in 2010.
Construction of this stadium began in 1940, but for various reasons lasted until 1947. Soon after that, in 1950, local football club San Luis moved in and is the anchor tenant to this day.
Interestingly, during construction of new east grandstand in 1955 and later in 1998 (while pitch was relayed) remains of ancient settlement were found under the site.
In 2007 decision was made to rebuild the stadium from scratch, celebrating Chile's bicentenary.
U-shaped stands leave empty room to the north, where administrative and leisure building was erected, as well as concert stage and a museum with the aforementioned remains.