New design: Nieuw Stadion Rotterdam
source: StadiumDB.com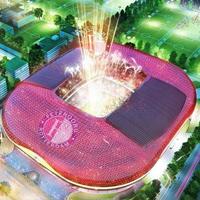 One thing's for sure – this isn't its final look. But we're presenting it, because there's still a long way to go before construction starts in 2016. Will this be the best stadium in all of Benelux? All indications say yes…
Was it worth the wait? Feyenoord has been releasing small images of a rather blurry vision for months now and finally we get to see the new stadium in full grace. The club just launched a website where they're promoting this project.
Of course this should be considered part of a campaign to win the support of fans, many of whom are sceptical about the scheme and would rather see De Kuip expanded, as opposing campaigners suggest.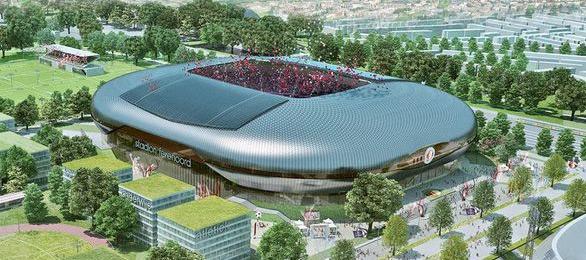 Thus, in an effort to get supporters involved, Feyenoord invite people to learn about the idea of a completely new stadium. The website already boasts massive documentation with over 240 pages explaining the planned development, estimated at €313 million.
As soon as the municipality approves the plan, which Feyenoord hope will happen very soon, fans are to be involved in thorough consultation that should see their views reflected in the final design.
That's right, we shouldn't treat the presented renderings as more than guidelines. We know the stadium is to have 3 tiers and 63,000 seats (90 skyboxes, 6,300 business seats), all under cover, also providing sliding roof for the pitch.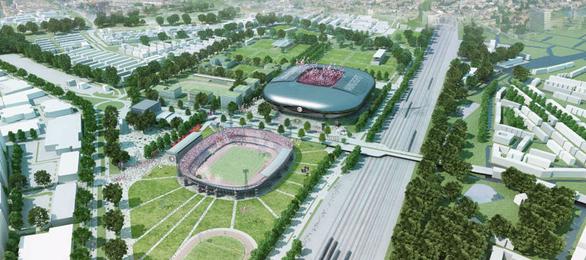 We also know about 1,500 parking spaces under the stadium and a plan to make it green and leisure-friendly. Feyenoord hope to turn round the habits of fans. Currently 70% of them come to games by car. The aim is for new stadium to provide comfortable public transportation access for 70%, leaving only 30% using cars at all.
The new stadium is to stand just meters south of De Kuip, which should be left standing as a monument and secondary venue. The training complex is to be redeveloped as well, receiving more infrastructure than Feyenoord ever had, with small training stadia existing aside the large one.
Even if the city gives full support to this massive project, we'll have to wait to see it happen. The club predict first works to start in 2016, while the whole stadium should be opened in 2018.