Munich: Allianz Arena to grow (slightly) again
source: NWZonline.de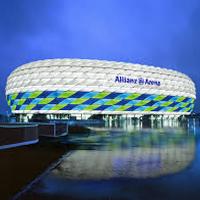 Maximum capacity for domestic games won't change, but that required by UEFA (without standing areas) is expected to increase. Instead of under 68,000, Allianz Arena should soon have 71,000 seats, according to NWZ Online.
Just as a reminder, in case some of you suspect a déjà vu, Allianz Arena's capacity has already increased ahead of the 2012/13 season. Domestic games of Bayern can now be seen by 71,137 people (instead of 69,901, increased before from 66,000), while international ties by 67,812 seated fans (instated of 66,000).
But now further changes are coming as venue managing company sees a chance to get hold of additional events. Thus the seated capacity is expected to rise again sometime soon to 71,000. Interestingly, this should not increase overall capacity for German games.
What exactly can Allianz Arena gain? First of all, this move will allow the Munich stadium to meet UEFA's criteria for Euro 2020 semifinal games (70,000+), which are now met only by Berlin's Olympiastadion.
Secondly, this will increase Allianz Arena's chances of hosting one more Champions League final relatively soon. It's not even a year since the last final in Munich (May 2012), but nobody means applying already next year. "The next two or three years are not realistic. Now it's London's turn, then Lisbon's. But someday a re-final for Munich is possible", says board member Karl Hopfner.