Leverkusen: Bayer investing in technology
source: rp-online.de; author: michał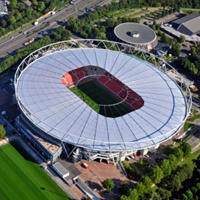 BayArena will soon have 500 video screens and 350 wireless internet access points. This will allow up to 20,000 people to surf online at the same time. Bayer is seriously increasing its merchandising range.
A few weeks ago the club announced the increase in standing allocation for home fans from 2,000 to 3000. There was something for traditionalists, then, now it's time for the new, more consumer-oriented updates of BayArena.
The ground will soon be equipped with StadiumVision system. It already works at various stadia in the US (Cowboys Stadium and MetLife Stadium, among others) and some of Europe's leading (Wembley or Amsterdam ArenA).
The system provides additional communication with visitors through – in this case – some 500 HD screens that will be able to address fans in almost all areas of the stadium. On one hand a good solution to amuse people with interviews or statistics, but on the other a great tool to get adverts across.
There will also be 350 access points for wireless internet, allowing up to 20,000 people to use it simultaneously without loss in 'speed'. Of course this also provides additional ways to target visitors with messages.