Leverkusen: Bayer increase standing section
source: FSF.org.uk / ksta.de; author: michał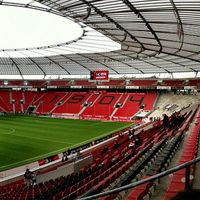 It's been many months since fans started campaigning for more standing areas at BayArena. And it was worth it, the number of standing places will increase by 50%, starting next season.
Since BayArena was revamped in 2009, most vocal supporters have enjoyed a rather modest standing section of 2,000, all in the north-eastern corner of the stadium. That's sonciderably less than the preferred 10%+ that most clubs provide.
This is why one of the fans started a petition last year, collecting signatures for the increase in terracing. His campaign may have gained under 600 votes, but this and many other efforts by various fan groups have proven Bayer that fans are determined.
"We've been repeatedly approached by supporters' representatives saying that the demand for standing spaces is greater than we currently offer. Adding more standing capacity will also considerably enhance the atmosphere and the support for our team in the stadium," said Bayer 04 chief executive Wolfgang Holzhäuser.
A fans' survey had shown that younger fans in particular were keen to add to the atmosphere from a standing area behind the goal. "We checked that this was structurally feasible and got the 'green light' for the new layout from the authorities," explained Holzhäuser.
With all requirements met, the layout will be changed ahead of 2013/14 season. Fans will no longer be limited to the north-eastern 'C Block' , the terracing will spread throughout the lower 12 rows of the northern stand and its corners. The difference may be seen below.
Despite capacity growing, Bayer's income would decrease due to lower charges for standing than seating. Thus, the fans have agreed to pay €10 more per season ticket. With regular season ticket at €160 today, this is just a 6% increase.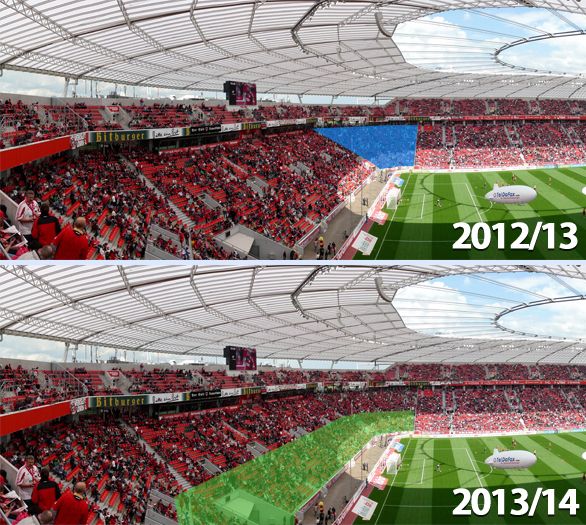 Photo: Steffen Sauder (cc: by-nc-sa)