Italy: Cagliari leave another stadium behind
source: StadiumDB.com; author: michał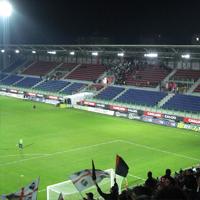 And are homeless for the time being. The club announced dropping Stadio Is Arenas after having used it for barely a year. It's not clear where they will find a safe haven with two best options dropped.
Stadio Is Arenas has received worldwide coverage, but not in a good way. The temporary structure was first chosen for Cagliari's new home in Spring of 2012 and opened in September.
But it never won the trust of safety authorities, requiring a new safety certificate prior to each game. This led to Cagliari being forced to play some games away from Sardinia or facing empty stands at the new home.
Moreover, in February multiple arrests were made in connection to the stadium being mixed up in embazzlement.
Is Arenas stands in Quartu Sant'Elena, just outside of Cagliari, a couple kilometers (or a mile) east of Stadio Sant'Elia, where the club used to play host. But they had to drop that stadium in early 2012 after disputes over financing (Cagliari were accused of not having paid rent for 7 years, among other).
Now also Is Arenas is getting abandoned as the club announced on April 2 that they will not continue their 2012/13 season at the stadium. In May they are to pay reimbursements to current season ticket holders and decided not to start any new season ticket campaigns until a new home is found.
Where will that be? Most likely temporary solution is one already used a few times by the team, Trieste (1,000km away!), but a place to put down roots in is hard to find. Sant'Elia and Is Arenas seemed the most viable options in the club's historical home, while the relations between club and city officials in Cagliari make it hard for a new deal to be reached over any pitch's lease.