Hillsborough: First anniversary without lies, but another without justice
source: StadiumDB.com; author: michał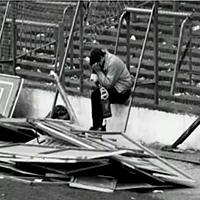 Reading memories of survivors still leaves us speechless, just like browsing photos and videos. The more hard it is to believe that it wasn't until last year that people affected by this disaster heard an official apologies. Indicating people responsible for the extent of the tragedy and following manipulation campaign is yet to happen.
The Hillsborough disaster had impact on all of us, even those not aware of it. When you take a seat on your next matchday, keep in mind it was introduced after Hillsborough. The same goes for removing fences and limitation of terracing, better access/evacuation standards. Overall stadium safety took a huge turn after Hillsborough.
Of course the tragedy left us more than just increased safety. It was also followed by myths of drunk hooligans desecrating bodies and other messages strengthening the negative stereotypes of dangerous stadia for many years.
1st anniversary without lies
It was in September 2012 that we finally learned the truth about disgusting campaign by the West Yorkshire Police who altered testimonies, spread untrue information and even attempted to make the victims and their close ones take some of the blame. Overall the theory of drunken, ticketless hoodlums storming the stadium repeated to this day by some was the work of police officers.
This came as victory for families fighting for justice since the very disaster. But how bitter is its taste, if apologies come after 23 years, or 8,552 days of the struggle? David Cameron was the very first prime minister who admitted the disgraceful role of authorities in covering up the tragedy. Margaret Thatcher refused to acknowledge West Yorkshire Police's role in causing the disaster even in a lot 'softer' version presented by Lord Taylor. While her successors never disclosed the secret files proving the extent of police's actions. To this day very few people saw all the files, including authors of last year's report.
24th anniversary without justice
Agreeing that fans were not to blame for what happened isn't the end. If the policing was so poor and catastrophic decisions were made, someone has to be held responsible. Especially when institution established to protect citizens was actually engaged in propaganda actions of the worst kind.
Last year saw the High Court overturn the result of official Hillsborough inquiry, paving way for a new evaluation of what happened. Analysis of the role played by each of 1,444 police officers connected to the disaster is ongoing.
2013 honours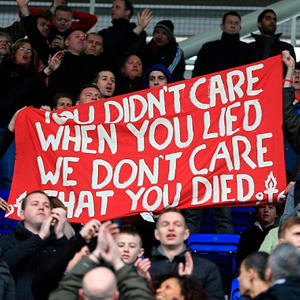 This year's remembrance of Hillsborough started in unusual circumstances, after the death of Margaret Thatcher. Long hated by football fans, former prime minister wasn't given a minute's silence, despite Reading and Wigan asking for it.
And Reading was the host for Liverpool's away on Saturday. Not only wasn't Thatcher remembered, but among many banners held by LFC support most were addressed to her and the one seen to the left seems the least emotional. Fans even danced to celebrate the death of who they think was also responsible for the cover-up of Hillsborough. However, a minute's silence for the 96 victims of April 15 1989 was abided by each fan at Madejski Stadium.
Yesterday two new monuments were unfolded in Liverpool. One is a clock placed in the city hall, with both hands stopped at 3:06, remembering the moment referee seized play and rescue efforts began at Hillsborough. The other is a cylinder-shaped block with LFC scenes and victim names engraved.
Today, as every year, ceremony dedicated to 96 victims and all others affected is to take place at Anfield. Worth keeping in mind, this tragedy also marked lives of thousands of people witnessing it, who often cannot come to terms with what they experienced. The harder it is to think that some people still believe the lies of West Yorkshire Police and put the blame on innocent people.
We also honour the 96 people who had their last away game at Hillsborough on our facebook page.