England: No minute's silence for Thatcher
source: StadiumDB.com; author: michał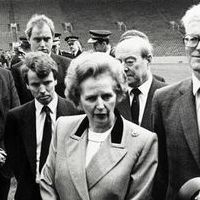 Football governing bodies decided not to ordain a minute's silence after the passing of Margaret Thatcher. Imposing it might cause harm to the good intentions, as Thatcher was extremely controversial.
The passing of Margaret Thatcher triggered a wide variety of reactions across the United Kingdom. Some were bringing flowers and lighting candles, while others literally took to the streets to dance and pop champagne corks.
Rugby league leaders were prompt to announce a minute of silence for the former prime minister. Similar requests were made by chairmen of Wigan and Reading in the Premier League. But football governing bodies chose not to risk it, as the outcome might contradict good intentions of those requesting.
Thatcher was a very controversial figure among British supporters. Though many in Europe believe she was the one to tackle hooliganism, the views are somewhat different in her homeland. It was during Thatcher's reign that most tragic disasters inside English stadia took place.
And the anniversary of the most compromised one, at Hillsborough, is this weekend. On April 15 1989 police mistakes led to 96 Liverpool followers losing their lives. In an independent report from last year findings prove that police ran a hideous campaign to try and shift the blame on hooliganism, ruining people's lives and disrespecting victims.
Despite the report not finding Thatcher aware of the grieve misconducts by the police, she was found not accepting the Taylor Report's remarks from 1989. Lord Taylor also wasn't aware of the cover-up plan by police forces, but even so he criticized mistakes in policing as contributory to the death of 96 Liverpool supporters. Thatcher wasn't sure of accepting the criticism, earning accusations of sweeping the tragedy under the rug.
Britain's largest supporter organization, the Football Supporters Federation, agreed that minute's silence shouldn't be imposed on all fans. Their statement reads:
"The FSF backs the decision made by the football authorities not to impose a minute's silence across all fixtures this weekend to mark the death of Margaret Thatcher. Should individual clubs wish to hold a minute's silence or commemorate the passing of Margaret Thatcher in their own manner that is a matter for them.
"We would expect that most fans' thoughts this weekend will turn to the friends and families of those 96 fellow supporters who lost their lives at Hillsborough 24 years ago."