England: Bournemouth hope to expand stadium
source: BBC.co.uk; author: michał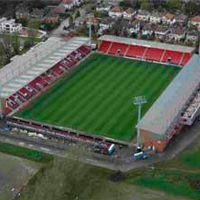 They have just celebrated promotion to the Championship last weekend and already announce plans to expand the Dean Court by up to 40%. According to the BBC, the Cherries are hopeful of getting it done in just a few months!
On Saturday they won themselves promotion to the Championship, only second time in the club's long history. And already they know that Dean Court will be the smallest stadium in the table, unless it gets revamped.
It's high time to start if they want to get it done ahead of the 2013/14 campaign, which according to chairman Eddie Mitchell is still possible. The stadium would receive a new south stand (currently empty end after temporary stand was dismantled) with over 4,000 seats at best. It's expected to replicate the north one, perhaps just being bigger.
Mitchell is keen to cement the club's place in the Championship before turning their attentions to achieving the ultimate ambition of Premier League football.
He said: "Our aim has got to be to establish ourselves in the Championship over the next three or four years, and why shouldn't Bournemouth go further?
"We are no different to any other club. We've got a big conurbation - bigger than some Premier League clubs. We have a lot of hard work to do, but I'm not here for a jolly.