Cologne: 1. FC Köln to take over RheinEnergie Stadion?
source: ksta.de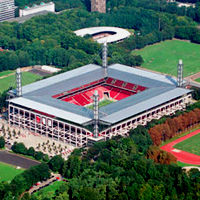 They may remain unsure of promotion back to the Bundesliga, but the club still wants to take over at RheinEnergie Stadion, possibly forcing the municipal operator to dissolve. Kölner Stadt-Anzeiger information.
As we informed you recently, 1. FC Köln is currently negotiating new, more flexible lease contract at the municipal RheinEnergie Stadion. The payments would be dependent on club's position and financial abilities rather than fixed.
But another deal is on the table – 'The Billy Goats' are hopeful of grabbing management of the stadium from Sportstätten GmbH, current municipal operator. This would allow the club to generate a lot higher revenue without sharing part of it with the public company.
What sounds like a great deal for the club may turn out not bad as well for Cologne. Apart from benefits from having a strong club the city might see savings as the salary of Sportstätten president alone costs €200,000 per year. His contract ends in September, which indicates we should see the negotiations outcome within the next few months at the latest.