Germany: Borussia and 1. FC Köln to invest in their stadia
source: DerWesten.de / RadioKoeln.de; author: michał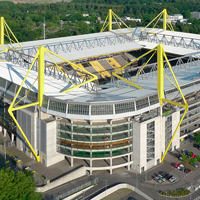 After photovoltaic batteries mounted onto the roof in Dortmund, Borussia is planning to improve its revenues and supporter facilities in the north-western corner of Westfalenstadion. Further commercial changes are also planned in Cologne.
After solar panels on the roof, Borussia is planning another improvement for Westfalenstadion (for commercial reasons known as Signal Iduna Park). This time turnstile system at the north-western corner is to be reorganised. Currently long lines affect the fans mood, but by the 2013/14 season these supporters should be more satisfied with what's offered.
More importantly for club finances, the same corner will receive new merchandising hub to allow people to spend more while enjoying their matchday. Complete cost of both improvements is estimated at €5 million.
Also in Cologne there are attempts to make the most of RheinEnergie Stadion. 1. FC Köln is expected to submit a proposal of what exactly they want at the stadium to the municipal operator, Kölner Sportstätten. It may come as early as next week.
The club is in much different situation than Borussia, though. 1. FC Köln is facing difficulties in paying for the stadium since they were relegated from the Bundesliga. What is expected, is a change in the current lease conditions, allowing the club to pay less while in 2. Bundesliga, but in return sharing more revenue when they win promotion again.