Sweden: Fanatics 'tested' Friends Arena
source: StadiumDB.com; author: michał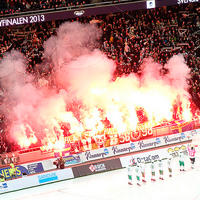 Flares were lit before the first game even began, but all of yesterday's events were carried out without major problems. Unfortunately some seats were broken by fans frustrated by their standing section not being prepared.
Sunday saw Friends Arena being tested in different ways. First came the hosting of three different games in one day (!), featuring bandy (hockey-alike), hockey and handball. No-one needs to prove that this is quite a challenge, but the stadium seems to have coped very well.
Despite stands not being full, a new record was still set for any bandy game ever. Largest crowd until yesterday was seen in 1959 at Stockholms Stadion. Back then it was over 25,000, while yesterday's exact attendance stands at 38,474 people, beating the previous one by far.
Just like many Swedish fans, we were more interested about how the arena will withstand pyrotechnics being set off. As it's designer Adam Wycichowski assured us, Friends Arena has that taken into account and can handle fans doing what law prohibits them from...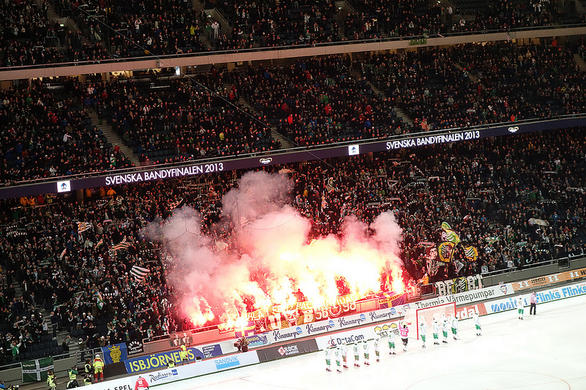 Photo: Johan Hansson (cc: by-nc)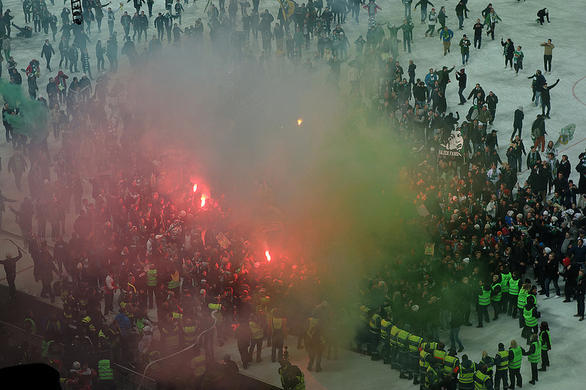 Photo: Johan Hansson (cc: by-nc)
And yesterday it was tested very early on, as Hammarby fans lit first several flares just before the bandy game started. Despite air in the arena not being completely clear for a while, it still didn't cause any major interruption. Fans did, though, by invading the pitch seconds before the game ended. They again lit flares, but this time to celebrate their club's championship.
Interestingly, Swedish press doesn't seem to be interested in the minor flaws of the event, because the coverage we found was very positive.
This doesn't mean that nothing bad happened, though. Some fans at the Hammarby end's lowest tier, which was designated as standing terrace, ripped their seats off or damaged them attempting to do so. This happened despite them being allowed to stand throughout the game. However, railings that are to be installed here weren't deliver in time to mount them onto the terrace, making it look like a regular seating section.