Interview: A next generation stadium
source: StadiumDB.com; author: michał

It is to combine the traditional expectations of football supporters with modern commercial events. It's a breakthrough and Zlatan's opening game isn't the reason. What is? Find out as we interview Adam Wycichowski, one of the creators of Friends Arena.
StadiumDB.com: It's only 1km from the cult Rasunda to the newly opened arena. But its been almost a decade from early announcements to the final outcome – a long way. How did it start?
Adam Wycichowski: It's a long story… It was obvious for years that Rasunda needs reconstruction or at least a thorough renovation. No-one was mentioning a move in the beginning. For both AIK and the owner, SvFF, this was actually unthinkable. In 2004/05 the opportunity appeared to combine the redevelopment with a greater project, considering the whole centre of Solna. This is when Roman Woźniak, overlooking the centre redevelopment project, asked me if I could help. Thanks to my recent works I was considered an expert. Håkan Björk from Roman's office was also on the job. I suggested Svante Berg's Berg Arkitektkontor for the project (thanks to them I took part in great projects like Globen or the won bid for olympic stadium). Svante got HOK (now Populous) onboard and that way we created the first design team. Initial sketches proved that current location couldn't suffice the new program in terms of required space.
What program was that?
Råsunda was to retain its status as national stadium of Sweden and At the same time meet FIFA regulations and become a 5-star stadium (50,000 capacity, among other requirements). And it was to generate revenues via its multiple functions. Thus the retractable roof that allowed it to remain an open stadium for SvFF (Swedish FA).
So we needed to find a new spot. After having checked the adjacent plots we went for today's location, some 1000 meters from the old Råsunda. Already in 2006 decisions were made on location, program guidelines and financing. The team of Arkitekterna Krook & Tjäder and Berg Arkitektkontor (today Berg/C.F. Möller) created the final design, set for implementation in 2009.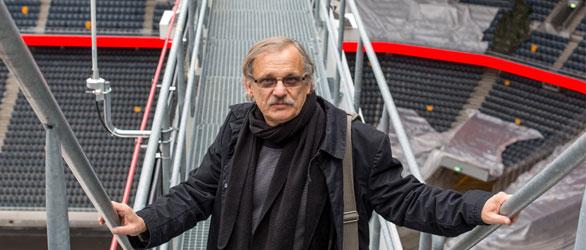 Adam Wycichowski knows 'his' stadium inside and out, having been all around the spaces he previously designed.
In this design, despite cost optimization (2008 crisis influenced the project and prolonged design process) we managed to fit all the planned features and technical solutions. Today we can say that Friends Arena has no match in Europe – it's the most advanced venue of its kind.
So what does it offer to the fans?
I had the pleasure of presenting it to sports journalists and everyone agreed about superb sightlines and the impression of being exceptionally close to the field. First real test was the opening game between Sweden and England on November 14. The arena has been designed with absolute priority given to functional solutions. It's not only a top-notch football stadium, but also a perfect concert venue. In terms of logistics there is no comparison (we consulted it with Live Nation at an early stage with the ambition to meet all their expectations). What makes us stand out even more is air conditioning. No other stadium in Europe with a retractable roof has this kind of feature.
There's also not one unjustified square meter of space or needless decoration. What was designed is essential for effective operation (along with comfort, safety and spectator experience) This is crucial for the investment to pay off. Let's keep in mind that it's financed solely from private resources, ith no public donations, etc..
You specialize in spectator areas. What are the advantages of Stockholm when compared to other stadium layouts? For example, it's got three tiers of seating when much larger venues have two – to name just Warsaw's National Stadium.
Designing stands is a very complicated issue. It's the geometry of his part that determines the final shape of a stadium. The smallest change may influence final dimensions of the ground, changing logistics, evacuation and so on. Mistakes may ruin the final outcome and worsen sightlines, impede communication, etc. (sometimes external constraints make optimum conditions impossible to achieve).
This is what has become my passion – I examined the theory of stand design during my work on the competition bid for new indoor hall in Stockholm (Globen, 25 years back). At that time there was no literature in Western Europe and I had the luck of having a freshly-released book by Polish Romuald Wierszyłło titled "Sports facilities".
And did designers' work look back then?
We had no computers to help us, though I tried using a program called Medusa, I also had access to Apple IIe and very simple CAD. But for the most part one worked on the traditional drawing board. While working on my next project I created my own method of establishing sightlines (also made a computer program working on several parameters, making it easier to optimize the design) and together with ArchiCAD I had a perfect workshop that I use to this day.
The cross-section profile of Friends Arena's seating bowl is an outcome of my work for best sightlines and perfect logistics. Thus the three tiers, partially overhanging one-another. That's how we achieved the feeling of compactness or intimacy unseen in other stadiums.
How does one achieve this kind of feeling?
Three numbers were decisive: lowest possible distance from the pitch (minimum set by FIFA), maximum slope of the top tier (based on local regulations) and vertical setting that was based on the accessibility for users and user types. To put it more simply: 20,000 on the lowest tier, 10,000 for middle tier (mostly corporate clients) and another 20,000 atop. Communication is effective due to the main foyer being placed on the same level as the shopping centre and railway station.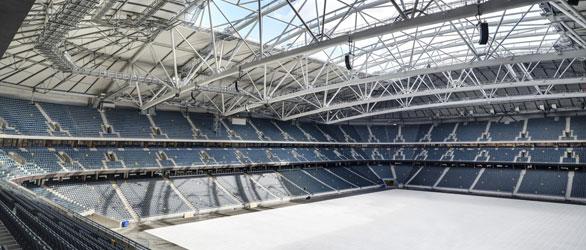 Stands divided into three tiers may be further modified by hiding top 20,000 seats behind curtains, creating an ambiance of a much smaller venue and allowing to reduce cost on events with smaller interest.
Different principles were used for the design of Warsaw's stadium and I'm not an enthusiast of the result. I wouldn't want to go deeper, though, without knowing all the constraints (some of them I know after being invited as expert for design bids in the first competition that ended up cancelled).
At the same time this closeness and massive roof make Friends Arena more of a closed hall than a stadium. That's good for events, when you may use the trusses to hang loudspeaker and lighting systems, but some commentators ask if the partly opened dome won't cause problems for a natural pitch to grow. Again Warsaw springs to mind with their stadium having big problems with sustaining any pitch.
Football is going event-style, mostly for the development of media, so stadiums are starting to look more like closed arenas. During the opening ceremony Friends Arena looked more like a hall than a stadium. All of the field was the stage and almost 200 tons of equipment was installed under the roof. Amazing spectacle with quite some momentum.
The roof beams are indeed giant, but they also have an openwork feature – they don't have negative impact when roof is open. Geographically Stockholm is in a position where no problems with excessive shades on the pitch can appear, unless games are played at noon. That's where we're different than, for example, Schalke's stadium, where such contrasts can be a pain for broadcasters and spectators.
Back to the spectacle feature of football games, fan buying a ticket today may be sure of much better service inside than he would get on TV. Four centrally located giant screens and special applications for smartphones contribute to additional attractiveness. This wouldn't be possible without the roof being massive. Just the screens, 65 sqm each, weigh 64 tons of load to carry. No comparison to the small ones in Warsaw.
And finally, about the shade over the pitch. In our parts of Europe, both North and Central, grass isn't possible to sustain naturally, even in open stadiums, without retractable roofs. To keep the grass in shape it needs to be artificially lighted, heated, irrigated and ventilated. This is already part of the bill. In our case we assume the field will be relayed 3-5 times a year, depending on the schedule. March 2013 seems to be the most dense month with Melodifestvalen followed by bandy final and World Cup qualifier against Ireland – meaning fresh grass from Holland necessary.
I'm curious about the different kinds of visitors. Concerts, Sweden games and AIK matches as well. That side's fans are famous for 'against modern football' attitude. They will be allowed to stand freely, but will they also be able to jump around or light flares?
Rod Sheard (Populous) described five 'generations of stadiums' (The Stadium, 2005). Friends Arena meets the conditions of latest, fifth generation (actually it's even classified as 'next generation' with air conditioning that requires dressing rooms). Thus, the multiple functions are an obvious requirement: football, speedway, bandy, concerts of various size…
Now, how can the specific expectations of AIK fans be met? A club with strong, organized following by the innocent name of "Black Army". At Rasunda they had their own stand behind the northern goal. So at the new one they wanted to occupy the same side. The problem is, in the new stadium, north stand is telescopic, designed to retract. So it had to be reinforced to bear with the extra dynamic load created by standing room.
Interestingly, FIFA and UEFA don't regulate how standing room should be organized, they just forbid those for international games. For increased risk fixtures (like derbies) extra safety measures will have to be applied, but we managed to meet the strict rules of 'The Green Guide' (Guide to Safety at Sports Grounds).
So, AIK fans won't manage to light any more 'pyro'?
Maybe they could manage to, but it's strictly forbidden, right?! (laughs) Of course we tested it with various kinds of pyrotechnics to judge the possible outcome and adjust ventilation appropriately.
In terms of aesthetics – it's very simple, modest. Neutral colours outside with a more impressive appearance only with colourful illumination. Stereotypically we could say its 'so Scandinavian', but that would be too easy for a justification…
It's not easy to drop stereotypes, so there may be something to it… I mean the stereotypes of Scandinavian design that puts function over form, embracing simplicity and naturalness.
This frugal and neutral layout has one more justification. It's easier to change the setting for one underlining a specific event. A different setting for AIK match, for Sweden-Poland fixture, or for a horse show, as an example.
The perforated cladding is illuminated and will surely serve as background for interesting displays. As I said before, the interior is entirely subordinate to function. And the outside reflects that.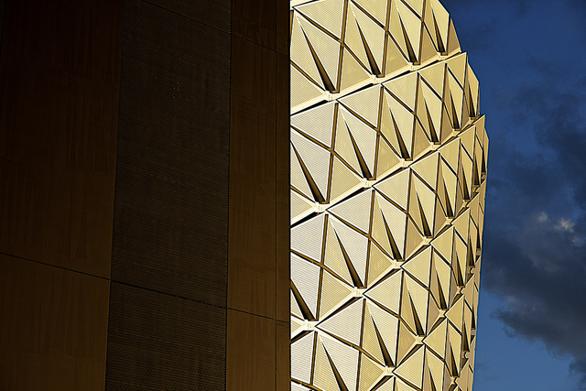 Subtle cladding is perforated to allow light glow from underneath and the geometrical form allows it to change appearance in various situation.
Through the clear form and homogenous setting we managed to create a dynamic pattern on the facades. Geometrically-motivated division to triangles gives us a variety of effects from closer and further perspective, at day and nighttime, in different seasons…
But no description, not even photos can describe properly the uniqueness of our arena. You need to see it live – drop by to Stockholm!

Adam Wycichowski – one of the creators of Friends Arena project. Earlier known for his part in Globen arena design and other projects. He specializes in seating layouts. Born in Poland, he emigrated to Sweden 20 years ago.