Stoke: Who's afraid of newspapers?
source: Mirror.co.uk; author: michał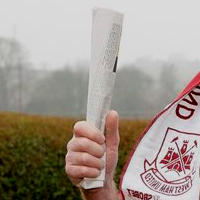 West Ham supporter was stunned upon entry to Britannia Stadium, as he was informed the newspaper he was carrying may be used as a weapon and needs to be left outside the ground.
Chris Barmby, 57-year-old retired fire-fighter was stopped by security guards upon entry to Britannia Stadium as he was carrying a newspaper. Surprisingly, local security guards branded the item a weapon, claiming the man might have used it to start a riot, should he set it on fire.
At the same time, no-one was stopping people from carrying match programmes printed at the club. Being an away fan Barmby may have expected a more firm approach than locals, but the retired fireman thinks Stoke security were overzealous.
Despite newspapers not being listed among objects prohibited at Stoke games, no-one at Stoke's Britannia Stadium was available for comment.