San Francisco: 75% seats sold, more than a year before opening
source: mercurynews.com; author: michał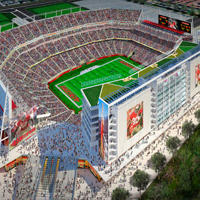 It's still a lot of work before the steel giant in Santa Clara gets build and operable in summer next year. But the interest in seat licences is huge with over 46,000 already taken, including almost all of the premium allocations.
San Francisco 49ers have to feel confident with their seat reservation process already giving $403 million income, of which $100 million they've already transferred to the Santa Clara Stadium Authority, company managing the construction process.
The massive income has been reached with over 80% of all premium seating being reserved, with seats priced at $20,000-30,000 and skyboxes at $125,000-500,000.
Regular seats are also popular, though. In total over 46,100 seats at the future 65,000-seater have been reserved. Cheapest seat licences, for the third tier, cost $2,000, while most expensive ones stand at a massive $12,000.
This altogether translates to all the main grandstand being sold out, while few places are left on the opposite side of the stadium. Only the more expensive seats located behind goals are still quite accessible.