Rio de Janeiro: Maracanã pitch laid
source: Copa2014.gov.br; author: michał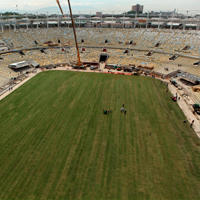 Yesterday marked a milestone at the site of what is to be Brazil's largest stadium. The famous Maracanã has its pitch in place, while installation of roof membrane and seats is progressing every day.
Yesterday saw the last of 360 rolls of grass laid at Maracanã, Brazil's largest stadium. The process began on Sunday with trucks from Região dos Lagos arriving on site of the redevelopment. Now the turf will require a lot of care to gain proper quality despite being surrounded by construction from all sides.
Installation of the pitch while other elements aren't ready may be an attempt to ease the pressure from FIFA and global media, which have put Rio de Janeiro under massive criticism recently.
FIFA secretary general Jerome Valcke was to visit Maracanã last week, but after a storm the site was completely flooded. This raised even bigger concerns about meeting deadlines – the stadium is currently the most delayed arena of June's Confederations Cup.
Apart from the pitch, roof membrane is also being installed, expected to reach 50% tomorrow. Thousands of seats were also laid onto the terraces, making the progress even more visible. They aren't installed, though, this process is only beginning now.