Oman: Four new stadium tenders announced
source: OmanNews.gov.om; author: michał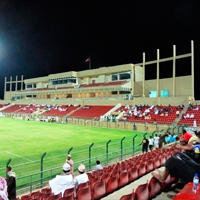 One venue to be expanded, three built anew – this is the plan for upcoming years in Oman. Sports minister announced the vision of sports infrastructure improvement, especially in the north of the country.
Government of Oman informed about launching four tenders for new stadia. The sports minister, Sheikh Sa'ad bin Mohammed al-Mardhouf al-Sa'adi, said the tenders were part of a strategy to build new complexes and centres across the Sultanate, according to the Oman News Agency.
Largest of the new venues will be the existing Al-Saada Stadium, which is to be expanded by some 10,000 (reaching 18,000) seats and provide possibility of future enlargement to even 25,000.
Second largest venue will be the new football stadium for Ash Sharqiyah, with 17,000 seats for spectators. Alongside this stadium a training pitch, hockey field, two tennis courts, covered natatorium and an indoor hall holding up to 1,100 spectators.
The new Musanadam stadium will be in Khasab and will include a 12,000-capacity international-standard football stadium and associated facilities such as fitness halls and media facilities. The North A'Sharqiyah project will contain a new 12,000-capacity football stadium, fitness halls, conference rooms and media facilities, with potential for a new multi-purpose sports hall to be added later.