New design: Stadion Nizhny Novgorod
source: StadiumDB.com; author: StadiumDB.com team
Of course this isn't its final name, but a temporary one. It also isn't its final shape, but is understood to be quite close. Just like it usually happens, not much is left of what Russia presented back as bidding country…
When Russia submitted their bid, new 45,000-seater for Nizhny Novgorod was to be located at Pecherskyie Peski Island. It's a popular leisure spot locally, but quite inconvenient location if one wants 45,000 people to get in or out. To make this possible two pedestrian bridges over local canal were proposed, but still only one road.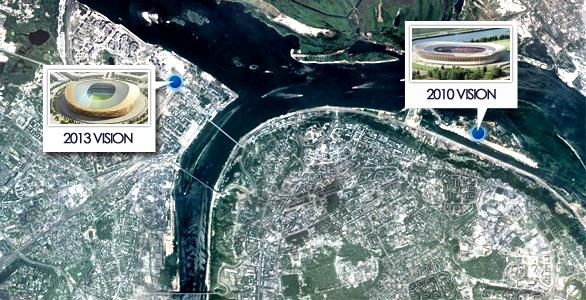 Today it's no longer the case. Pecherskyie Pesky was dropped. Instead, western district of Strelka was selected, right where Oka meets Volga. Today it's a rather poor, industrial district with high-rise residential blocks and factories. But wins in terms of transportation, not being as remote as the previous site.
Initial concept for the stadium can be seen at our website today, but please keep in mind that it is expected to change. Just on Monday local organizing committee met and agreed that a complete design has to be ready in September. This is when we'll know the final colour of external cladding (note – currently renders show two variants) and other details.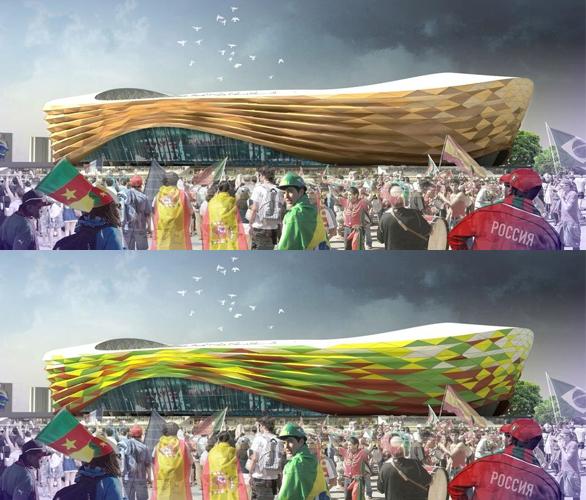 Capacity is still set at 45,000, but only for the 2018 tournament. Post-World-Cup use should see upper tiers behind goals dropped, downscaling the venue by 10, maybe even 20,000 seats. If current plans are implemented, after 2018 the stadium should have an interesting layout with three tiers along the pitch and only one behind goals.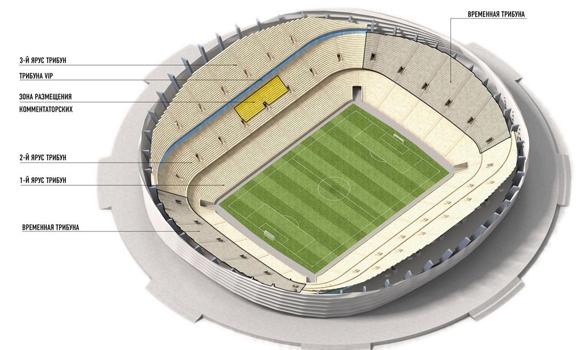 Another interesting feature is gas-fueled heating system, which should enable each spectator to feel 10-15 degrees higher temperatures than those outside. This is an impressive difference since no retractable roof is planned.