Moscow: Inglorious record at Europa League game
source: Associated Press / StadiumDB.com; author: michał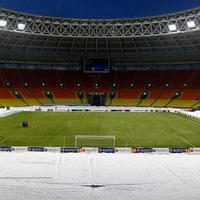 It doesn't matter how much Rubin attempted to hide this in the post-match reports, it's really hard to miss that Luzhniki stadium was almost empty on Thursday night. Europa League tie against Levante was seen by just 520 people!
Thursday night wasn't too cold. Actually quite the opposite – with temperature slightly below 0 degrees it wasn't that bad at all. The international clash between Rubin and Levante may not be a classic, but one might think it would find some enthusiasts in the 13-million metropolis.
Unfortunately, this didn't happen. Only 520 people watched Rubin face the Spanish rivals. This means Luzhniki was only 0.6% full. This was thus the lowest attendance for a game of this stage the Europa League has seen.
Vast majority of the attendees were Tatars living in Moscow, as few people made the journey from Kazan, over 800km (500 miles) east of Moscow. Those who made it may have been a bit frustrated as their team only managed to win in extra time. But since they won, Rubin will now face Chelsea and the sole name of their rival guarantees that the poor turnout won't happen again, no matter where they play.
Rubin used the Moscow giant due to Luzhniki having high quality artificial turf and thus being able to hold international fixtures even during the winter season.
Starting next season Rubin won't have to face the problem of exodus to Moscow for winter games as their new world-class arena is almost ready!