London: West Ham presents retractable seating at Olympic Stadium
source: StadiumDB.com/ WHUFC.com; author: michał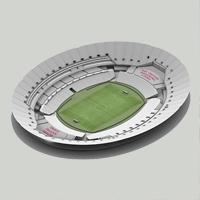 Despite the club claiming this will allow fans to create great atmosphere, we beg to differ. Vast majority of fans will still have moderate (if not poor) view of the pitch. For those used to Upton Park, binoculars may come in handy.
London's Olympic Stadium won't be the world's first to use retractable seating. Similar systems already work at various stadia, to name just ANZ Stadium in Sydney or Stade de France. Today West Ham boasts about having a much more efficient system than the one in Paris, bringing fans 10m closer to the action. They just forgot to mention that upper tiers at Stade de France ar closer to the pitch than those in London...
Once stands get automatically transported closer to the pitch, extensive terraces are to be created behind then, allowing for up to 8 extra rows to be added temporarily. This means the lower stands may visually get almost conjoined with the upper sections, as the upper tier will not overhang the lower one at any point.
In practice all this means that sightlines will still be very poor compared to Upton Park. West Ham may fit in a lot more people (recent data says of 54,000 capacity), but none of them will enjoy the kind of view of the pitch they have now.
Lower tier may be 10m closer than at Stade de France, but with slope at just 14° it's going to be very flat, quite like the much criticized low seats at Emirates Stadium and worse than Wembley. To add to that, this level will span over 32 rows, even more than at Emirates.
Meanwhile the upper tier, one remaining untouched by the planned conversion, will not overhang the lower rows, staying in its distant location from the pitch. Even with the extended roof having an 84-meter span (largest tensile structure in the world, according to West Ham), it's still not certain to keep atmosphere in, as fans will have a hard time creating one in the first place.
For larger cross sections please check our facebook profile!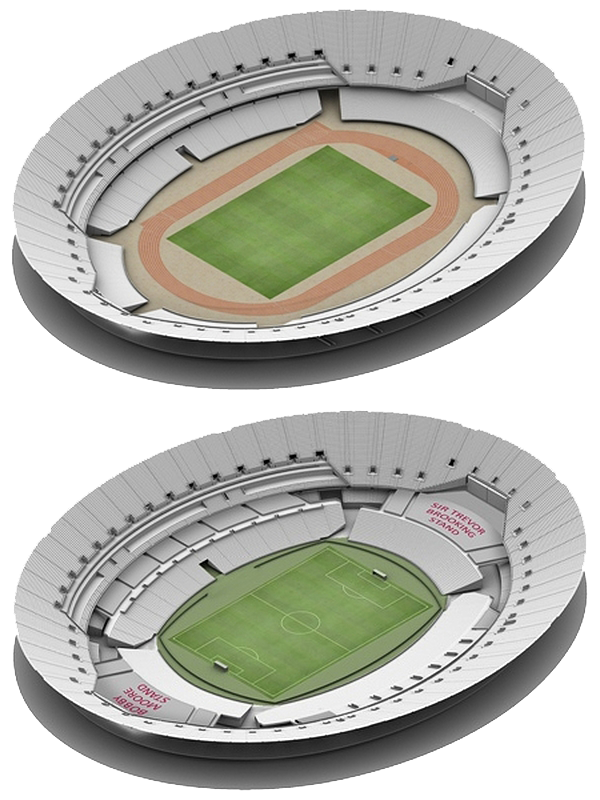 Img: West Ham United

Img: West Ham United

Img: West Ham United