Germany: Crowded Easter in Cologne
source: KSTA.de / własne; author: michał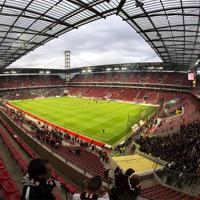 Though it's not the Bundesliga, tomorrow's game between 1. FC Köln and Jahn Regensburg (worst side in the 2nd league) may have attendance of some 50,000 people.
Although we did write about the massive Berlin derby with 75,000 people in attendance not long ago, it's not Hertha enjoying top attendances in 2. Bundesliga. 1. FC Köln attracts more people, averaging at almost 39,000 per game!
This means that last home fixture allowed them to exceed half a million tickets sold this season. Tomorrow they can only improve that performance and it doesn't matter that it's Easter or that bottom club Jahn Regensburg are coming to Cologne.
The Billy goats have a long streak of 14 games without a loss and are challenging Kaiserslautern's place in the top three. If they manage to win against Regensburg, they may grab the play-off spot before their next game, which will be the promotion rival Kaiserslautern.
Yesterday before ticket office closing the Sunday game already had 43,500 people coming. Including matchday sales the crowd may get close to capacity, which stands at just over 50,000.