Berlin: Derby in a league of their own
source: StadiumDB.com; author: michał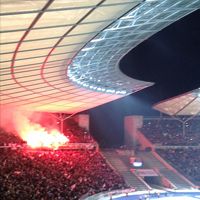 Union is growing, Hertha got weaker – this enables them to meet and decide superiority in Berlin. And if you see over 74,000 people in a 2nd league clash (with 25,000 being the away crowd!), than it can only be Berlin, really.
A few years back they didn't play against each other, even if the history of Berlin derbies is a very big one. But Hertha happened to fall downwards, balancing between Bundesliga and the other Bundesliga, while Union is progressing on their way to get in the first one. Currently both clubs are competing for promotion and despite Hertha having a safe point reserve, both teams may meet in top flight next year.
But until then they're both 2nd league sides. This doesn't seem to bother fans of either side, whose number is growing. Union just reached 11,000-shareholder mark, while Hertha fans don't seem to mind their side falling up and down – after their last relegation attendances went down by just 1.5% and were still above 46,000 on average. Now you try and find another 2nd league club worldwide with crowds like that…
Union never was as big as that, it's a local club far from central Berlin, embracing its unique, intimate atmosphere at the "Old Forester" stadium. Which, by the way, has just received a new main grandstand and grew to almost 22,000, clearly being a different league than Olympiastadion in terms of capacity.
But yesterday it was only the larger one's capacity that mattered. And with promotion battle tension was high. Then go other aspects, like Hertha's fanbase vandalizing Union's bus with blue-white graffiti. Then again, Union didn't consider Olympiastadion as Hertha's territory and set up their own merchandise stalls before yesterday's game, feeling at home.
And they had quite some reason to feel that way as media report that up to 25,000 Union supporters came, reaching a number they couldn't achieve at home games. Precise number is hard to establish as fans in many sections of the stadium were mixed, but what is known that yesterday's game was seen by 74,244 people. If that's possible to compare with another derby rivalry, it would be the one from… Berlin, two seasons ago. With overall atmosphere throughout the game a peaceful one, below you can find some highlights – choreographies by fans of both sides and chants.
Oh, and the score? It ended 2:2, meaning no-one rules in Berlin until their next clash.