Bucharest: Dinamo's new stadium in city centre?
source: prosport.ro; author: michał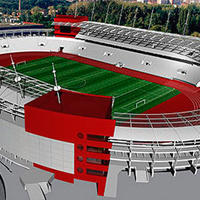 Not only in far better location than the initially announced plans, but also twice bigger and more expensive. Bucharest may get another premium stadium if millionnaire Ionut Negoiţă keeps his word...
In early March media in Romania were informing that Dinamo may move to a new stadium in a few years. It was to have some 12,000 seats and cost €12 million.
Downside of the plan was location, thought to be planned for Glina, formally a district of Bucharest, but practically a village outside the city.
Today the sole shareholder of Dinamo Ionut Negoiţă assures Glina is not the plan, or at least not any more. Currently he wants to keep his club at Stadionul Stefan Cel Mare, in strict centre of Bucharest.
What's more, the new capacity is to be between 22,000 and 25,000 seats. Cost is estimated to be at €30 million. No detailed plans were revealed so far, though.