Bucharest: Dinamo moving to a new stadium soon?
source: GSP.ro; author: michał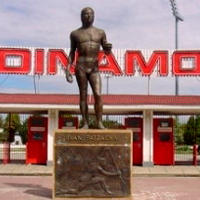 Construction may start in half a year and the outcome is to be a new 12,000-seater in suburban district of Bucharest. In exchange the private investor expects to build a mall in the place of the current venue, Gazeta Sporturilor writes.
Stadionul Stefan cel Mare is the best located football venue in Bucharest – strict centre, just off the first bypass ring. In fact, this would be a fantastic spot for a shopping centre. Or at least Ionut Negoita, majority shareholder of Dinamo, thinks that way.
He has just offered to build a brand new stadium for his club and hopes works could start as early as Autumn 2013. The 12,000-seater would cost some €15 million, but location is a very remote one – old landfill almost outside of Bucharest, in the suburban Glina district.
His reasoning is that once Dinamo move to a new stadium, he would be granted part of the plot on which the current stadium stands. Instead of the famous Stadionul Dinamo he foresees a shopping centre. Until the new stadium is built, Dinamo is to play some games at their home ground and the most important ones at Stadionul National.