Brazil: FIFA very concerned with Maracanã's delay
source: Reuters.com; author: michał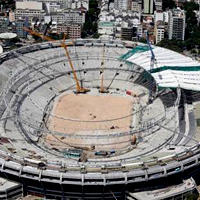 Its schedule was very tight already in 2010. Now, after several delays, it's extremely tense. FIFA secretary general expressed his serious concerns as the stadium is to be ready weeks after the final deadline set by FIFA.
Ahead of his visit to Rio de Janeiro tomorrow, FIFA secretary general Jerome Valcke said during a press briefing that he's 'most concerned' about the preparations in this city.
Of course it's Brazil's largest stadium he was referring to. Despite FIFA claiming all stadiums hosting the Confederations Cup in June have to be ready in mid-April, the Rio-based stadium is scheduled for completion in late May. This is already the third date given as 'final' by local organisers, who have first postponed delivery of Maracana from December 2012 to February 2013, then to April and recently to May 28. Opening game is expected to take place on June 2, giving just days for matchday preparations.
"The date of completion is very important so we can test them before the start," Valcke said. "May is too late and that could cause a lot of trouble for FIFA, for the World Cup and for Brazil."
Currently the stadium is being covered with over 25% of the membrane sheets laid above stands. All finishing works are yet to be done, not even mentioning installation of seats, furnishings and all electronic equipment.