Stadium of the Year Nominee: Sparda-Bank-Hessen-Stadion
source: StadiumDB.com; author: StadiumDB.com team
Simple and cheap doesn't mean bad – this stadium proves it. Even if major drawbacks can be found in the new Offenbach football stadium, it's still great value for the money spent.
We're not afraid of concrete as we've seen the horrid prefabs of Stadion Henryka Reymana and appreciate, when it's done rightly. In Offenbach it is and the slender concrete columns forming outer shell make up for a good impression overall. Perhaps not the most impressive and decorative, but the rough feeling and vertical alignment make it more imposing, even a bit monumental.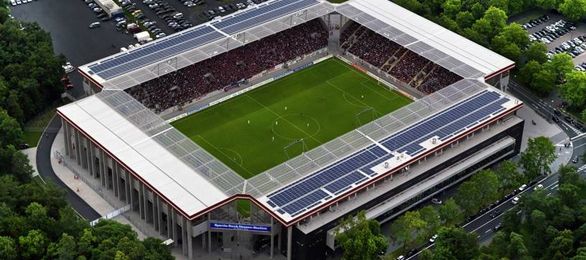 This stands in contrast to rather tacky red-white roof facing, bringing to mind not the best association with gas stations… Brick-covered main stand's exterior looks better than in renderings, but doesn't go all too well with the facing as well.
Overall, especially keeping in mind that Bremer AG usually design 'budget stadiums' with aesthetics being far on the list of priorities, this is a great value for money – far better than previous works of this company. It was much more expensive than stadia in Paderborn and Gliwice, but at €27 million still is very cheap for its standard (naming just photovoltaic panels – surely not a basic feature).
Inside we really enjoy spectator layout with all of the gegengerade (opposite straight) not having a single seat. In times when terracing is being pushed back, behind goals, into small corners, etc., this stadium gives standing fans some of the best spots. Of course terracing looks dull when empty, but far more vibrant than seating when full.
What we don't like is placing 7 rows of seats behind massive columns at the end zones. OK, cost-effective this may be, but try and tell that to people, who are supposed to sit there. Of course with today's attendances of Kickers there's no threat of watching concrete supports for 90 minutes for anyone, but why build these extra row in the first place if they weren't even there on renderings of the initial design? After all, if the new stadium offers more obstructed-view seats than the old one, there's something wrong here…
But you don't have to agree with us and are entitled to express your support (or lack of thereof) for this stadium by voting for 'Stadium of the Year' before Feb 23!