Stadium of the Year Nominee: Grand Stade Lille
source: StadiumDB.com; author: StadiumDB.com team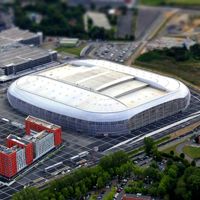 Largest French stadium opened since 1998 World Cup. One of the most advanced venues ever, possibly with a technical breakthrough. Surely one of the most universal in years. Is this enough for you?
Since the '98 tournament French stadia have brought little surprise or innovation. Pretty much until last year, though. Openings in Le Mans, Valenciennes and now Havre and Lille show that France is doing great things with their sports infrastructure, with the latter stadium being the real showcase arena.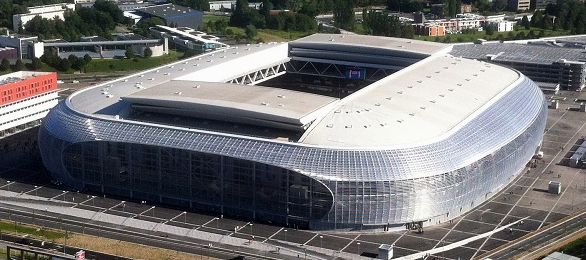 It raised some eyebrows when was announced several years back – Lille OSC wasn't a team to fill 50,000 week in, week out. But it seems now they are, having very well dismissed skeptics in their first season. Point for Lille, but now they need to stay at the high level, which may prove more challenging.
Still, it wasn't the attendances that gave this stadium recognition in Europe. It wasn't even the massive retractable roof, but the partly mobile pitch that has stands hidden underneath. In short, moving part of the pitch and sliding curtains down allows converting half the stadium into an indoor hall for tennis, basketball or volleyball. And concerts, obviously. Another point for Lille, because it seems the biggest fears concerning quality of the movable pitch (especially at edges) are no longer raised. It seems to work quite well.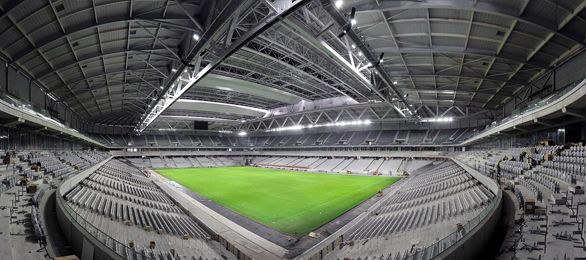 In terms of aesthetics, new French stadia present a really high standard, but this one is perhaps the best one, proving that reality may look better than photoshop renderings – perhaps the best positive surprise since Allianz Arena. Translucent tubes in the façade look a lot better in reality and the colours used for signage as well as sector names being visible from outside the ground add to the quality.
But despite all these advantages, we're still not entirely convinced whether it's a true football stadium. The imposing roof, the corporate seating layout with unreasonably large staircases in the lowest tier, the repeated bowl shape – despite several nice touches and great pitch idea this is still a scheme we know all too well…
You don't have to agree with us. Remember to vote before the Feb 23 deadline, selecting your top 5 venues from 16 Stadium of the Year nominees!