Rotterdam: De Kuip to become a monument?
source: Rijnmond.nl; author: michał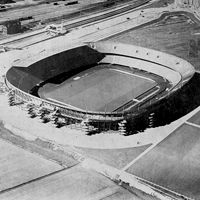 If Feyenoord succeed and build their desired new stadium across the street, what should happen to the current venue, 75-year-old De Kuip? Architectural historians say it would make a great national monument. Rijnmond.nl report.
Current debate around De Kuip's future use has just received one more voice. Architectural historian bureau Crimson suggest the venue should revert to how it used to look at its very beginning. In short, this would mean removing the roof (installed in 1994) and skyboxes, among other elements.
This way the stadium would gain historical value and might become a national monument as it is already a legendary venue, one of Europe's most famous. Engineering value of the structure is also important as 75 years back, when it was opened, this was a unique stadium, reason for decades of pride in Rotterdam.
That may happen if Feyenoord succeed and build their new stadium just across the street. The club could then use it for training or secondary matches and the historical form wouldn't be a problem in terms of requirements. But should the 'Red De Kuip' option win, plans of making De Kuip a monument would need to be scrapped. Below you may see the stadium in its initial shape.