New design: Houston Football Stadium
source: StadiumDB.com; author: StadiumDB.com team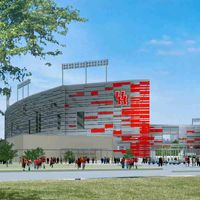 It won't be much bigger than its predecessor, but it's not the size that decided here. New stands will allow incomparable commercialization possibilities to bring more revenue from the university of Houston football games…
Built back in the WWII days, Robertson Stadium went through quite a few changes in its days, losing the running track, gaining new stands, but still fell short of today's expectations, especially for corporate revenue streams at Cougars games. That's why Houston Football Stadium came along.
The size increase itself isn't too impressive with growth from 32,000 to 40,000 and alone this isn't a reason for demolition of the historical stadium. But this is what happened in December, ending with this quite spectacular façade fall:
New stadium is to be rotated to east-west alignment (contrary to north-south at Robertson Stadium), giving majority of the spectators a view on Houston skyline.
With capacity growing rather slightly (though enabling further increase to 60,000), then surely the standard has to rise. With 26 skyboxes, 34 smaller suites, 766 luxury armchairs, 2,778 premium seats and several party terraces it will surely be able to generate incomparable revenue.
The whole project is expected to end in 2014, with budget estimated at $105 million.