New design: Amazing makeover for Montpelier
source: StadiumDB.com; author: StadiumDB.com team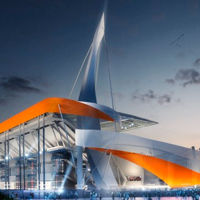 It's a real shame we won't see this stadium done for Euro 2016, but UEFA already made their selection. Besides, it won't be ready until 2017. Still, this won't look like an 'early 1990s stadium' any more!
The football stadium in Montpelier has always been a baby of A+ Architecture. They were the ones to design it in the first place and then expand for 1998 World Cup. And now they are also the ones to give it a third look, by far the most impressive so far!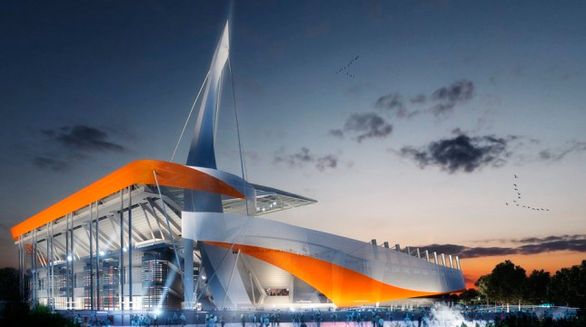 Img: A+ Architecture
Already in the first half of 2014 works are to start on this project. It won't change the venue's capacity much, but then local football side doesn't need expansion overall. Better facilities is what this makeover will bring, though – strong identity and new revenue streams.
Visually A+ decided to retain the dominance of massive 3-tier southern stand and make it even stronger. New roof will not only serve its purpose by covering all spectators. It will also become a landmark of its own in the city's skyline with a slender 76-meter mast to support it on the east side. Smaller one will provide support to the west. Other stands will get new façades and after years will finally be consistent with the south one.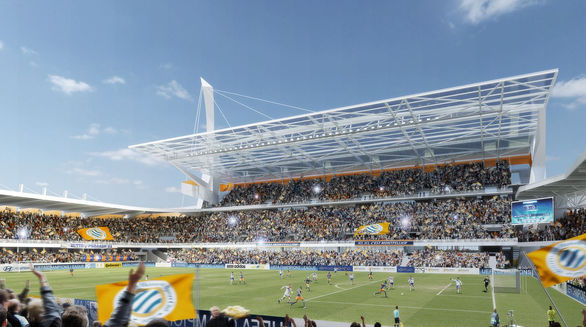 Img: A+ Architecture
Apart from the visual aspect there's the more practical one. The revamp will bring completely new possibilities to generate income. New Mosson will get 20 skyboxes and an extensive corporate zone to the north, reaching well beyond the current structure.
Architects predict the revamp to cost some €30 million ($40m), but media outlets already inform of €50 million ($68m) budget. First time ever it won't be the city hall paying, but agglomeration authorities.
With the stadium being constantly in use, redevelopment is expected to be phased throughout a 3-year period, ending in 2017.