Netherlands: Ajax and Zwolle (still) expanding their stadia
source: elfvoetbal.nl / voetbal4u.com; author: michał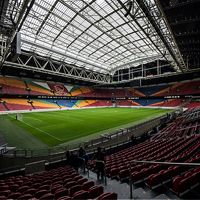 Both clubs already increased the number of seats in recent months, but in both cases it's still not enough. Extra seats will be added between existing stands and the pitch.
Ajax has been seeing average attendances nearing 50,000 people for quite some time. No wonder they made their first addition to Amsterdam ArenA's capacity a few years back, by adding 2 rows in front of three stands (excluding only the southern one).
This season special platforms placed on moats between stands and pitch were expanded further, especially at the main stand, where seats currently cover all of the distance between field of play and initial first row. These steps allowed for the stadium to grow from its previous 51,000 to over 53,000 already and as the western stand's new seats are enjoying high popularity, similar addition is to be done on the opposite straight, making the ArenA a 54,000+ sized stadium.
At the same time stadium director Henk Markerink admits the club are also redeveloping their changing rooms for players as those built over 15 years ago no longer meet today's standards and better ones can be found even at amateur clubs.
In the shadow of Ajax, similar expansion to the stands is done by Zwolle. The team that managed to win promotion to Eredivisie recently, has first added new seats to their IJsseldelta Stadion in last summer. Some 2,000 seats were added in front of northern and southern stands, raising capacity from 10,500 to 12,500. Now the ground will grow further as main stand will get a similar expansion. Fans will be brought closer to the pitch and players as substitutes' benches will be integrated into the new rows. Capacity will surely exceed 13,000, but detailed amount of seats isn't known.