London: Tottnham stadium a step closer
source: dailyecho.co.uk; author: michał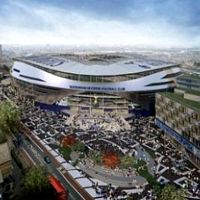 The Spurs stadium project moved a step forward after Haringey Borough Council agreed to buy land for the Northumberland Park project. Now residents will not be able to file legal challenges over 'right to light'.
Haringey Borough Council is to buy land in the Northumberland Park, north of current White Hart Lane. The land will then be resold to Tottenham Hotspur. Thanks to these steps no 'right to light' complaints will be possible.
The 'right to light' rule ensures that all long-term residents of buildings with window have access to certain amount of sunlight. In short, this rule prevents from building tall buildings that might overshadow lower ones. Similar issue was blocking redevelopment of Anfield in Liverpool, but the councilors agreed to buy back homes that might suffer from lack of light.
In Tottenham's case residents will have right to receive compensation for changes that my influence their living conditions, but will not be able to hold back the Northumberland Development Project, which has new Tottenham stadium at its heart.
Councillor Alan Strickland, cabinet member for economic regeneration, said: "This agreement with Spurs paves the way for the next step in the regeneration of Tottenham, which will create much-needed new jobs and homes for our residents". Aside from the stadium, up to 280 flats are to be built.
The new stadium for 56,000 people will be located partly on the plot of White Hart Lane and will thus be built in phases to enable constant use of the existing venue. Only after part of the new ground is ready, the club will relocate and demolish their current stadium to finish remainder of the new one. All of the project is estimated at £400 million.