USA: Cosmos propose a $400 million stadium
source: StadiumDB.com; author: michał

The revived club wants to develop a second football-specific stadium for Long Island. After the MLS suggested Flushing Meadows, NY Cosmos want their own 25,000-seater and much more, just a few miles away.
Dissolved in 1984, the ever-famous great franchise from New York plans to become a major power in American football/soccer. Currently playing in North American Soccer League (inferior to the MLS), the club has ambitions to go higher and new stadium is one way to improve.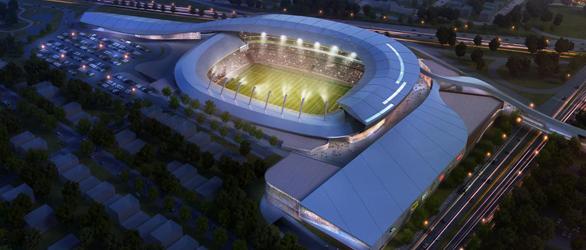 Photo: NY Cosmos / Populous
Cosmos have submitted their plan to redevelop a plot adjacent the Belmont Park racetrack, a 28-acre (some 110,000 sqm) field into a purpose-built stadium with 25,000 seats, a 175-room hotel, extensive retail infrastructure and a spacious public park. The whole plan would cost $400 million (entirely private funding), of which the stadium would need $200m.
Cosmos have already revealed renderings of the complex, drawn by renowned Populous practice. The stadium would be integrated with a pedestrian bridge for easy access and conjoined with the retail park. Perhaps the most distinctive feature would be the horizontal 'blinds' creating a light façade running along the venue.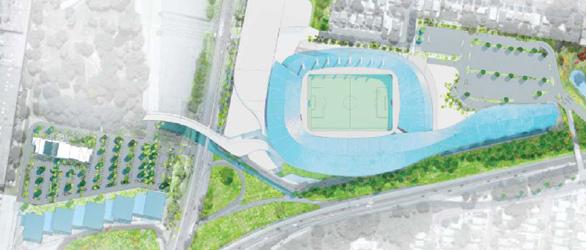 Photo: NY Cosmos / Populous
Inside the stands would have various sizes, adding to the dynamic layout. Clearly dominant main grandstand would have two 'regular seating' tiers divided with several levels of corporate seating, with two open balconies and closed skyboxes as well. One end would have only a single tier, opening the stadium to a plaza near the retail centre.
Construction timeline is yet to be established as it's still a very early stage, but Cosmos hope to have the ground up and running by mid-2016.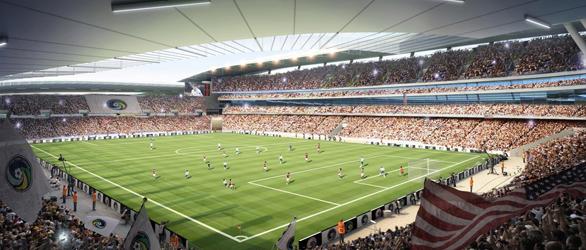 Photo: NY Cosmos / Populous
The site is just 6 miles away from Flushing Meadows, where MLS want to locate a new stadium for the league to expand. It isn't clear what club would make it their home, but what seems more probable now is that Cosmos aren't interested and if both plans succeed, Long Island may get its first football derby.