Stadium of the Year 2012: Nominee selection begins
source: StadiumDB.com; author: StadiumDB.com team

Third time overall, but first time in English, we're proud to invite you to participate in Stadium of the Year award, 2012 edition. First phase is completing the list of nominees. We created an initial one, now you can check it and modify, if you feel we missed a venue worth voting on.
As in two previous editions, that were unfortunately available only in Polish, we're counting on your participation from the very start and with your help in a few weeks we'll know which venue opened in 2012 you found to be the best one.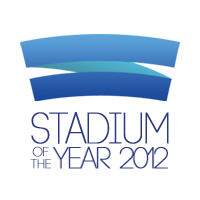 First of is the nominee selection. We don't want to play jury at any point, so we leave it up to you to choose which stadiums opened between Jan 01 and Dec 31 2012 deserve to be voted on. Our online survey already includes 15 worthy stadia inaugurated over the past months, but you may add new ones if you feel it's not complete just yet. There's one week until list is closed and becomes final, so don't hesitate to check it and suggest changes, if you feel so.
As the list is closed on Jan 22, we'll prepare a voting system for you to make the final selection. As in previous editions, voting will last one month (Jan 23 – Feb 23) and will allow each user to give out points to five different venues, choosing a personal 'top five'. Please find the regulations below.
Stadium of the Year 2012 Regulations
Submitting nominations: Every reader/user of StadiumDB.com may submit a nomination. Unlike many competitions, ours is user-oriented, so we don't require any fees, text messages, e-mail submissions or liking us on facebook (we do appreciate it, though). To make it as easy as possible, we give you our online survey where you can see stadiums already listed and may suggest further nominations.
Nomination requirements: To become a nominee, a stadium has to meet several criteria. It has to hold at least 10,000 people and be opened in 2012. The latter means hosting at least one event with all stands available to the public. Stadiums built from scratch are taken into consideration as well as those having a thorough redevelopment. In general, we accept stadia that have had 75% of their structure altered. If any particular case raises doubts over the extent of changes, it would be dealt with individually. The competition is about football stadiums, which means we select between venues that are capable of hosting a football (or soccer, if you prefer) game. They may still have running, cycling or speedway tracks around their pitch, or have pitches larger than football-specific ones.
Nomination process schedule: Jan 15 – Jan 22, 2013.
Voting process schedule: Your votes will be accepted between Jan 23 and Feb 23, 2013. There's no need to send e-mails or comment on facebook, we will have a special competition site launched on Jan 23. Each person will be entitled to cast one vote, selecting his top 5 venues (giving them, respectively, 5, 4, 3, 2 and 1 point).
Previous Stadiums of the Year
Despite vote being ran in Polish only, we've had significant participation from people worldwide, which led us to make this year's edition first ever to have two language versions. Below you may see previously awarded stadia: