Poland: Ice rips roof of Wisła Kraków stadium
source: StadiumDB.com; author: michał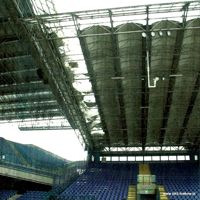 Despite host club claiming it's only a 'minor flaw', stadium operator admitted today that masses of ice and snow tore holes of significant size in three parts of the roof. Had this happened during a game, many people's life would be at risk.
It's been one day since the accident that made front pages across Polish media. Significant amounts of ice and snow fell from higher parts of the roof onto those beneath, ripping holes of disturbing size in the cover. Each of them may have 20 sqm (over 200 square feet) or more, as seen in the photo below.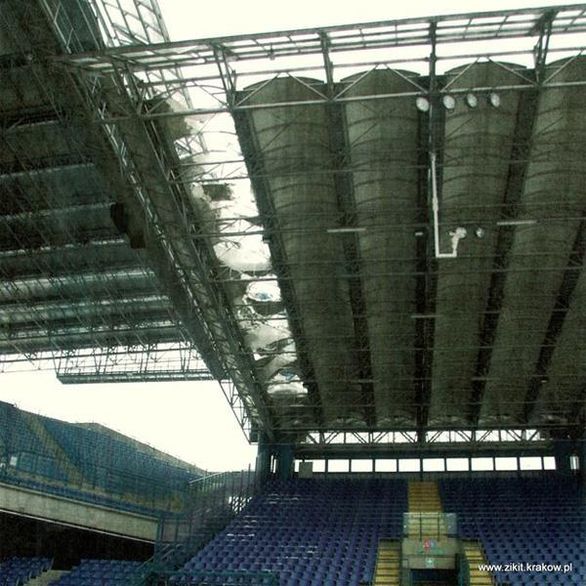 Photo: ZIKiT
Such accident happened for the first time, despite the stadium withstanding its first winter last year without any problems. It's equipped with heating system that allows to slowly melt snow before large amounts can fall onto the roof. Only the very edges of the cover aren't heated. Still, usually neither ice nor snow stay on the verges of the roof as sloped ledges make it fall almost instantly.
But recent weather conditions were quite rare with snow melting and then freezing back very fast, not to mention freezing rain, all of which was probably (though only probably at this time) the reason for masses of ice to stay frozen on the ledges and only lose its adherence once temperature rose above 0 degrees in recent days. Falling onto polyurethane sheets the ice made them bend downwards or break, then making its way onto some 400-500 seats in total.
Such situation took place in three corners of the stadium (as shown below), where roof of taller stands alongside the pitch overlaps the single-tiered end stands. Henryk Reyman Stadium's owner, Krakow's Communal Infrastructure and Transport Management (ZIKiT), confirmed that repairs will not be costly, but reasons need further examination and a solution has to be found for such events not to happen anymore.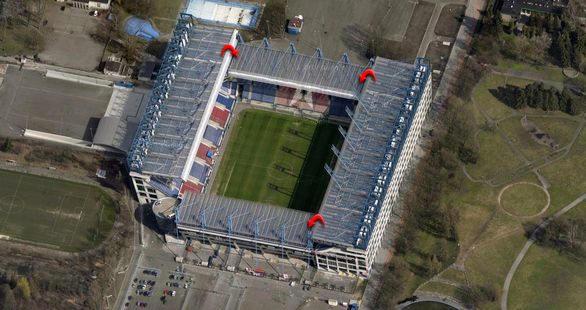 Base photo: Google Maps
First meeting of ZIKiT, stadium designers and contractors took place today, but no details were disclosed so far. In fact, even the exact time of the crash is still unknown.
Interestingly, the host club attempted to first hide the accident and later to underestimate the extent of what took, claiming that only a few sheets were broken and only in one corner of the stadium. No reporters were allowed into the stadium yesterday, despite Wisła claiming this was only a 'minor flaw' and the roof structure is intact.
The accident happened during the winter pause of Ekstraklasa, Poland's top division. First home game in the spring part is to be played on February 28, against Jagiellonia Białystok. All indications say there should be no problem with hosting the game. What seems the most radical is small sections of seating in the corners being closed off. However this shouldn't be a problem anyhow, as Wisła's home attendances are at half the capacity.