Poland: Double fiasco in Lodz
source: StadiumDB.com; author: michał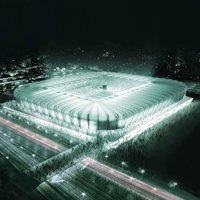 In early 2012 it seemed that Poland's third largest city will be among very few ones to have two modern stadiums. Almost a year later Lodz not only isn't closer to that dream, but actually seems a step back.
No PPP for Widzew
In March 2012 Lodz municipality launched a tender to find private partnership for new 33,000-seater for Widzew, one of two largest clubs in the city and a legendary side in Polish football. This would be the first venue in the country built in a Private-Public Partnership (PPP). Three companies expressed interest and began negotiations with the city.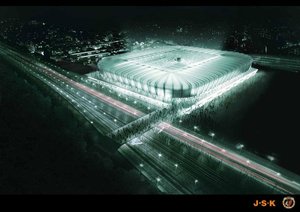 The plan envisaged that Lodz will cover road adjustments, donate the land and finally – fund the most important, main stand of the new stadium. Private investor would in exchange build three remaining stands and a commercial part with the uses he would desire. For years to come the private partner would receive revenues from events and the commercial part to reclaim the invested 200 million PLN (some $65 million or €50 million) and start earning extra money.
But the plan fell apart when all three companies backed out, arguing they wouldn't be able to recover their share of the investment without regular subsidies from the city. Their argument seems fair with all stadia in Poland struggling to get out of the red – even well managed, the venue itself would be highly unlikely to ever repay the 200 million contribution.
Negotiations ended in court as one of the investors claiming the city has misled him. But with court not pursuing the claim, a new PPP has began in early December 2012. The deadline for any companies to express interest passed today. No-one decided to restart negotiations with Lodz municipality. At this point it's unclear what will happen to the stadium plan, but what's certain is the year-long delay which had already cost a lot due to procedures being performed vainly.
Not the right time for ŁKS
When Łodz were starting the PPP for Widzew, we already knew the contractors for another stadium – 16,500-seater for second local powerhouse, ŁKS. Tender for the construction of this stadium ended in December 2011 and the timeframe envisaged that by early 2013 works will be at peak, with up to 1,000 workers will be on site. The number is 0 at the moment. Why?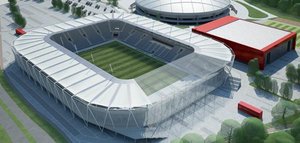 Despite both sides having signed the contract in early 2012, works were agreed to start in July. Consortium of Mostostal Zabrze and Budus haven't started in time, raising questions over possible delays.
It was already clear at that time that both companies aren't having their most prosperous period, which was proven in October, as Budus filed for insolvency. The company, now defunct, left Mostostal Zabrze with the construction site, but Mostostal barely started demolition of old northern stand to stop the process after just days.
Instead of carrying out the contracted work, Mostostal was focused on court battle with Lodz municipality. The company filed to change financing scheme – the contract provided full payment after all work is done, while the contractor wanted to receive monthly payments. Several attempts failed as court didn't change conditions once signed by both sides.
At this point the city is preparing to sign a settlement with Mostostal Zabrze and launch a new tender for the works that were supposed to be half-way done by now.
More than a year has been wasted with no change for fans at any of the two stadiums in Lodz.