New stadiums: Smallest venues from Ligue 1
source: StadiumDB.com; author: StadiumDB.com team

Best league in France has some modest stadiums that we lacked in our database. Today it's time to make things right and present to you Annecy, Ajaccio and Brest.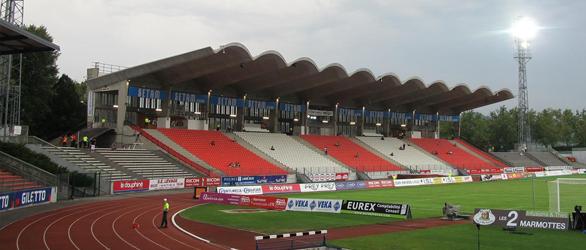 First sporting venues were built here in 1930s, but construction of a stadium began only in 1958. It took 6 long years before it was opened in 1964.
From the very start Annecy's main stadium served mostly for athletics, with domestic championships hosted three times, in 1987, 1993 and 1994. Some international tournaments were also held here, though not any of the most important.
As for football, Annecy FC are the regular hosts, but in 2011 also Evian Thonon Gaillard FC moved in despite Evian/Thonon being over 70km north of Annecy. This was the only stadium able to meet Ligue 1 criteria and only after a series of renovations in 2010-11, with seats and parts of the roof installed.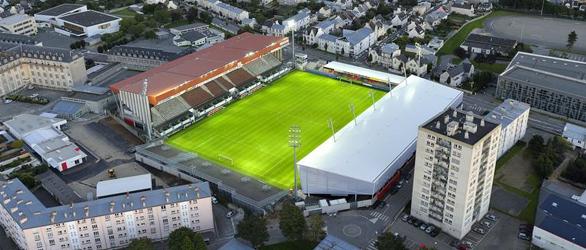 Though opened already in 1922, the stadium received its first and most recognizable stand after Stade brestious 29 won promotion to the Ligue 1 in early 1980s. The structure raised capacity over 5 times, from 1,800 to over 10,000 people (half the crowd was seated).
The redevelopment was an opportunity for renaming from Stade de l'Armoricaine to Stade Francis-Le Blé, currently often abbreviated to FLB.
Further major changes came no sooner than in the twenty-first century, as the local club again got promoted to French top tier. Plans of relocation to a brand new stadium were put forward in 2004, but eventually a different vision of further expansion at FLB was approved. In 2010 a new stand on the western side was built, allowing to exceed 15,000 capacity mark.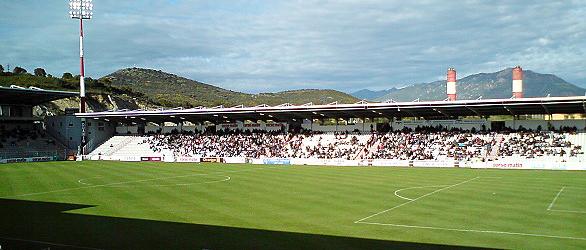 When it was opened in 1969, it was named simply Timizzolo. Later on name has been changed to honour Ajaccio's mayor, but one thing hasn't changed over the decades. The ground offers spectators fantastic view on the Mediterranean Sea with its location on a hill and one open end.
Complete redevelopment began in 2007 and was supposed to retain the view, with three stands completely covered and seated being the plan. Initially hoped to be opened in 2008, it won't last shorter than until 2013 before the plan is carried out.