New designs: Lodz and Rzeszow (Poland)
source: StadiumDB.com; author: StadiumDB.com team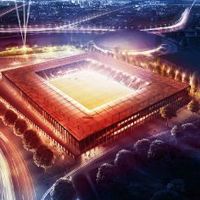 One of these stadiums will not get built, but is still definitely worth a glimpse. The other is increasingly likely to take shape in one of Poland's least developed regions, becoming a major athletic and football stadium.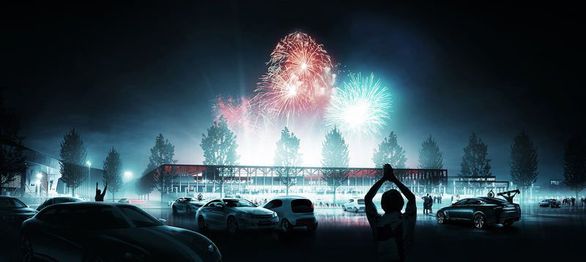 Photo: JEMS Architekci, Unique Vision Studio
The vision seen in the rendering above (and link above the rendering, too) is one that ended up rejected, but for its quality we had to get it in our database, eventually. And so we give you what JEMS Architekci created and Unique Vision Studio translated into images.
A classically elegant, very simple form is restricted from the outside by rhythm of colonnades that not only encircle the stadium itself, but also organize space around it. Geometry is key here, also on the inside. Single-tiered stands are very simple with additional rooms (skyboxes and control room) atop and a chance to expand under the slightly raised roof from 16,000 to just over 20,000, if needed.
Making of the renderings:
This was, if we may share our opinion, the most impressive offer submitted for the new stadium of ŁKS, one of Poland's major clubs once, currently in dramatic financial condition. But as this was to be a municipal investment (and Poland's first stadium in a 'design + build' tender), cost of the offer came first.
Of three bids running for the contract, this one (by JEMS Architekci and Max Boegl of Germany) was the second, but at 317 million zloty (€75m, $100m) didn't come close to a much simpler offer that won, with budget of 218 million (€52m, $70m; by Perbo Projekt and Budus + Mostostal Zabrze).
Ironically, as we recently wrote, the winning bid also didn't come to fruition as Budus announced bankruptcy late last year. So instead of being half-way done, the new stadium for Lodz seems to be only a plan again. The city of Lodz currently plan to launch a new tender for the project…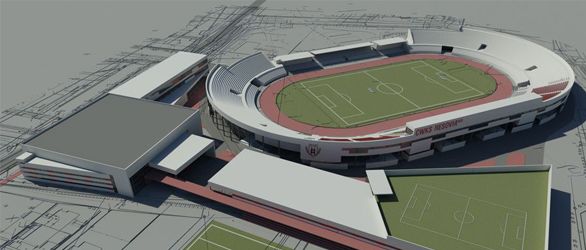 Or the Voivodal (Regional) Centre of Youth Sports, as it would be translated to English. This is the name planned for a redeveloped sports complex in Rzeszow, capital of the Subcarpathian region – one of the least urbanized in Poland and thus rather poor stadium-wise.
The vision itself dates back to 2011 and was commissioned by Resovia, one of Poland's oldest clubs, currently in third league. Recently it's been brought back as basis for a new plan. Current ground and its direct surroundings are expected to be transferred by Rzeszow University to the regional authorities (Voivodeship) very soon, both sides agreed on that already. With financial support from EU funding the stadium is to change from the university's burden to a thriving sports hub for youth from across the region.
And if not with EU support, then possibly with a private partner. Local businessman Ryszard Podkulski has recently expressed interest in building the stadium, on condition the Voivodeship would allow him to also raise an extensive commercial part next to it, but keeping the key uses of the Centre.
With future not clear at this point we should keep in mind that final shape of the centre may vary from the renderings, but plans envisage similar investment process. First, a new eastern stand is to be built, with 7 locker rooms for athletes and a covered training track underneath.
Then an indoor hall (possibly with archery range as well) as second phase and last – curved stands behind goals at the stadium. With the eastern stand (4,800 seats) and new curves the venue might hold up to 16,000 people, becoming one of Poland's largest athletic venues and a proper stadium for the Rzeszow derby in football.
Early estimates give the whole complex's cost at just 60 million zloty (€14m, $19m), but as it takes shape, this number may change.