New design: Mestský stadión ve Vítkovicích
source: StadiumDB.com; author: michał
It was supposed to be rebuilt some 5 years ago, but design has changed completely since then and is now under construction. First stand in May, by mid-2014 two more should come, enclosing the ground that will only have its main grandstand unchanged.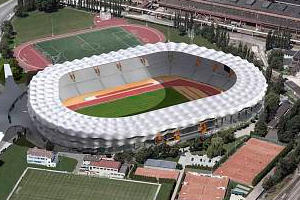 A few years back the arthletic-football stadium in Ostrava-Vitkovice had just one decent stand, renovated main one with seats and roof. Others were dilapidated terraces on land slopes. No wonder a conceptual design was drawn by Projektstudio to rebuild those three sides (eventually, main stand was to follow) into double-tiered sections with membrane cover. With the old main stand it was to host 22,500 people, with new one – 30,000.
That impressive design never came to fruition, with budget constraints as primary reason. But the same architectural office worked on a new, downscaled plan with stands for 15,000 in total, including the existing main grandstand to the west.
Again the new stands are C-shaped and surround the running track. Renderings that you may see at StadiumDB.com now were first presented in spring last year and work on demolition of the old terracing began in June. Right now the steel skeleton of eastern stand is taking shape and thatnks to the structure being a prefab one, it should be ready as soon as May 2013.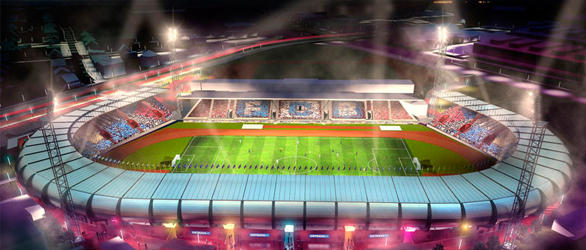 Two more stands at endzones are to follow in mid-2014, enclosing the running track entirely and giving Ostrava a stadium able to host major events, not only in football (with Banik games the most anticipated), but also in athletics. The venue is expected to bring Diamond League to Ostrava by 2015 and hopefully European Championships in 2017.
Budget of the downscaled project is estimated at over 820 million CZK ($42 million, €32 million) is barely 30% of what the bigger stadium was thought to cost back in 2007.