New stadiums: Schweinfurt, Kiel and twice Mannheim
source: StadiumDB.com; author: michał

One stadium is dedicated to a Nazi, causing no sympathy from Maccabi Haifa (you don't say…). Another went through a tornado and war bombings, but is still kicking after over 100 years in play. And the two from Mannheim, well, they are. All worth a look!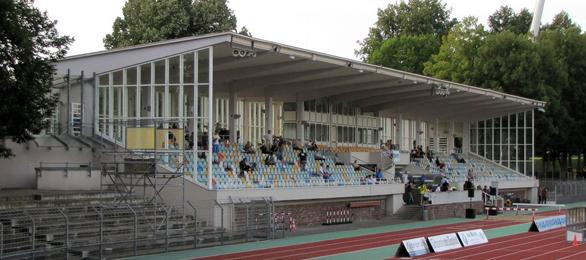 One of the most controversial venues we ever added as it commemorates a Nazi, member of NSDAP who paraded in an SS uniform on opening day and had the likes of Heinrich Himmler and Herman Göring among his guests. But it was Willy Sachs who actually paid for the stadium in the first place.
Opening took place in July 1936. Thankfully links to Nazi Germany ended later, though the unfortunate name comes around some times. This was the case in 2001 when Maccabi Haifa refused to play their friendly game here because of the patronage.
In Summer 2001 the ground was modernized to meet 2. Bundesliga regulations, with terracing being renovated and floodlight masts built. Thanks to these works it was among training venues for the 2006 World Cup, chosen by Tunisian national side.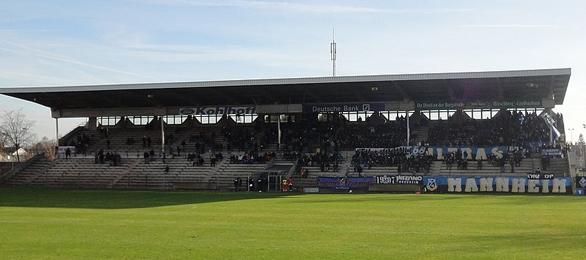 The ground in Waldhof district played Home to Waldhof Mannheim SV's games since 1924. It wasn't until 1993 that the club moved their first squad to newly built Carl-Benz-Stadion, leaving this as secondary venue for the youth.
With one covered stand that holds club offices, the stadium couldn't meet league requirements in 1990s, though earlier it staged matches at various levels.
Until 1996 it was known simply as Stadion am Alsenweg, but later gained patronage of Sepp Herberger, famous coach born in Mannheim, who won World Cup with Germany.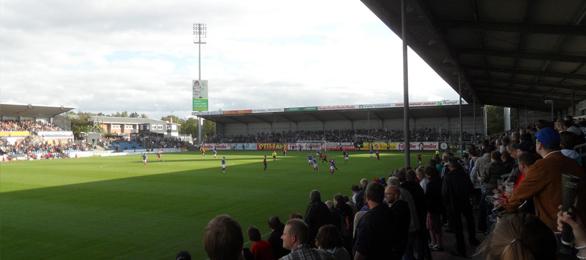 It stands in the same location since 1911, making it one of the older venues in Germany. Initially with a single wooden stand, it was renovated and expanded first in 1922 after a tornado damaged the structure. Later in 1927 running track was added and by 1943 capacity already stood at 18,000.
However bombings during WWII damaged the ground, causing repairs until 1950. This is when existing main stand was opened. By 1957 the stadium already had first floodlight system and capacity of even 30,000, mostly terraced.
It wasn't until recent 2006-09 redevelopment works that two sloped stands were destroyed (west and north), leaving eastern side the only one with low terracing. New steel structures have both cover and seats in most sections, new giant screens and floodlights were also installed.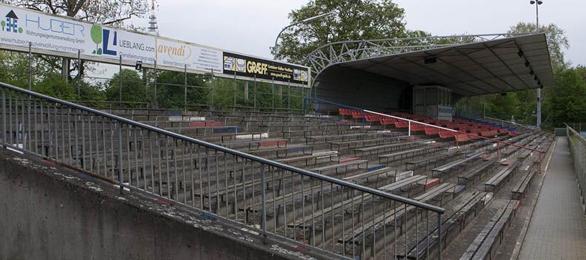 Opened in 1971, this venue stands just behind the fence with larger Carl-Benz-Stadion. This isn't the only thing these stadiums have in common as before the 1990s redevelopment, the larger stadium also went by Rhein-Neckar-Stadion name. To add to this curious switch, there's also Rhein-Neckar Arena built not far away.
Despite its modest size and relatively poor standard (only 1,000 seated and covered places), it's got floodlights.