New stadiums: Japanese five
source: StadiumDB.com; author: michał

We've got stands covered with grass, a building between stands and pitch and a few more attractions. But quite frankly, these are just very decent stadia in Japan that we haven't covered before, don't know why…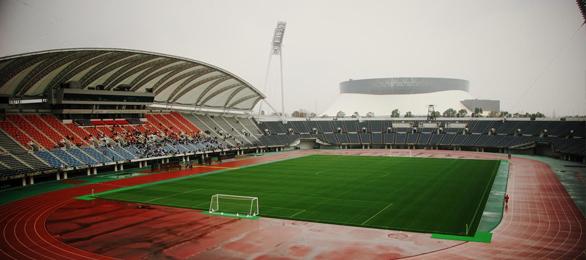 Official name is a very long one, so no wonder it's more commonly known as KKWing Stadium, the first word being a mix with both 'K' letters derived from Kumamoto (prefecture) and Kyushu (island). The stadium is centerpiece of Kumamoto's largest sports park with its 32,000 capacity and from the start was to serve various sports disciplines. It's neighboured by a secondary stadium and indoor arena.
Despite a typical single-tier bowl layout with running track around the pitch, it's quite distinctive among other Japanese stadia due to the wing-shaped roof with floodlight pylons used as support.
Already in the opening year, 1998, it served as host venue for Japan Athletics Championships and from 2002 it's also home to football – first as training base for Belgium ahead the 2002 World Cup, then as similar base for several top clubs in Japan. But anchor tenant for football came no sooner than in 2005, when Roasso Kumamoto moved in, remaining the sole hosts after temporary use by Oita Trinita ended. Also Japanese national teams come here from time to time, including youth, female and primary selection.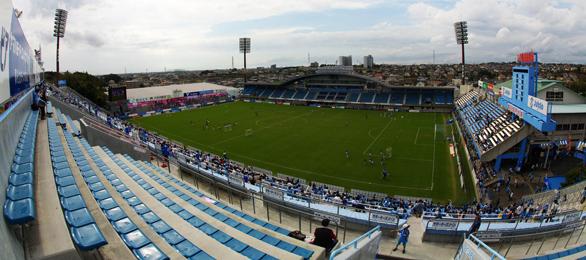 Though built back in 1978, it only complies to J.League regulations since 1994, when it reached the 15,000-seat capacity demanded by league authorities.
Initially created as part of Yamaha company contribution, it's still owned by the motor giant (not a naming rights deal). In 1990s popular club Jubilo Iwata moved in and has proven popular enough to circulate between this stadium and much larger Ecopa Stadium, located some 9km away.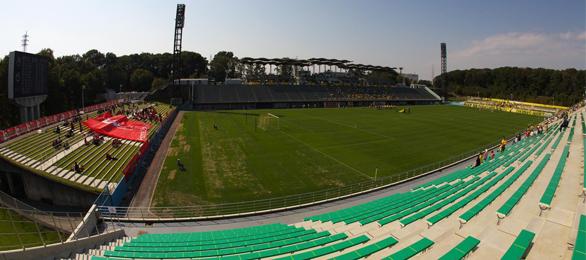 If you enter the stadium by bridge located among trees and three of four stands are covered with grass, you know why it's called 'green'. This used to be the case with Tochigi Green Stadium when it opened back in 1993. There was a concrete main stand with minor roof covering some seats and on all three remaining sides there were grassy steps that accommodated people in a more 'picnic' manner.
This isn't how the ground looks now, because along with the football rise and promotion of Tochigi Soccer Club, rose the requirements the ground had to comply with. So the stand opposite main one was also rebuilt in early 2011 to become a concrete one instead of grassy and get capacity above the 15,000 J.League minimum. Theoretically the capacity is over 18,000, but due to safety regulations it's limited to just over 15,000 for J.League games.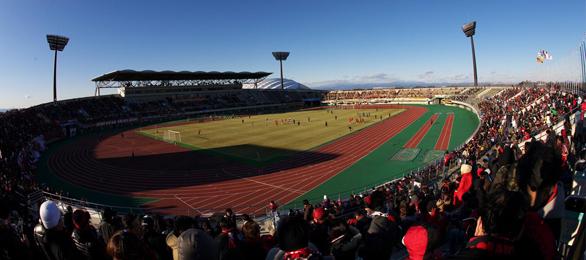 Main stadium of the Kumagaya sports complex, designed not for any particular football team, but for wide sports use and so it is used for various events, with Japan Athletics Championships from 2011 being a top tournament held here. But with its 9-lane track the stadium is among best athletic venues country-wide.
As for football, ever since it opened in 2003 (after almost 7 years under construction!) there has been no club that would make this stadium its home. Due to location in football-mad Saitama it's been host of many games anyway, with Omiya Ardija (making it their second venue), Thespa Kusatsu, Urawa Reds and FC Tokyo have played home fixtures here on various occasions.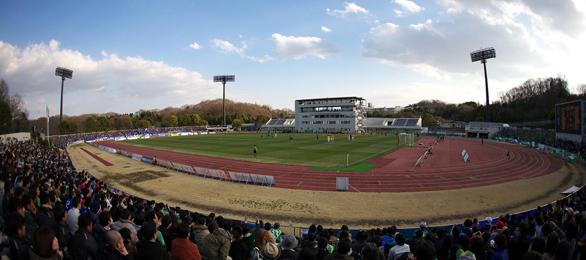 Known perhaps better as Nozuta Stadium (due to its location in Nozuta Park), this venue exists since 1990. It constantly serves as tournament venue for academic competitions in athletics, also hosting matches in its first years, but not regularly.
Anchor tenant team Zelvia moved in when it started growing in early 21st century. Being promoted year after year, Zelvia started applying to J.League Division 2 in 2010, but failed to meet stadium requirements. Since then renovation works have been ongoing with new floodlights in 2010, new seats and finally a much unexpected office building in 2012, between the running track and main grandstand – this one holds player, media and officials facilities and is only temporary.