New design: Stadion Taman BMW
source: StadiumDB.com

No, it has nothing to do with car manufacturing BMW, that's just an abbreviation used by Indonesians. Otherwise the approved venue's temporary name would be unreasonably long.
At this moment one might say that Jakarta has got absolutely no proper stadium to own. 'To own' doesn't come without reason as there is one giant venue, but Gelora Bung Karno isn't municipal, it's federal. Meanwhile a metropolitan area inhabited by almost 30 million people and having a blooming football side like Persija needs something more. Persija is already big enough to play some fixtures in front of even 100,000 people at Bung Karno, but still too small to fill it more than halfway on a regular basis.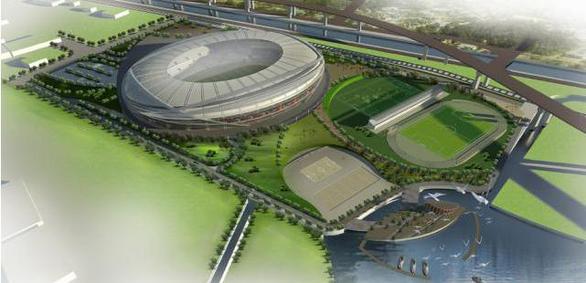 Then there's Persija's previous ground, Lebak Bulus, which is far too small and awaits demolition to make way for transport infrastructure. And so Jakarta remained without alternative for a few years now. Authorities began to look for one in 2009, but only this year they came up with a location from which the BMW part derived: Bersih Manusia dan berWibawa. This phrase we wouldn't dare to try and translate directly.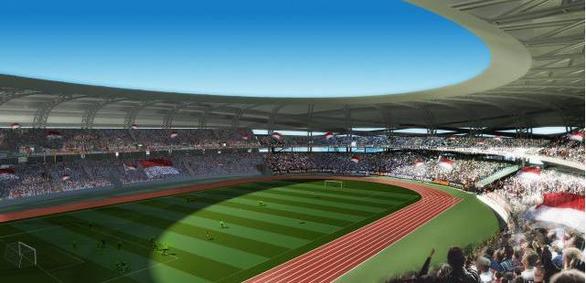 Late Autumn designers were selected. It's PDW Architects from Jakarta, who haven't got a stadium in their portfolio yet. Working on the new stadium concept began from a simple oval which was later joined by intersecting lines. Those in the end symbolically resemble a Betawi turban worn by men, typical to Jakarta.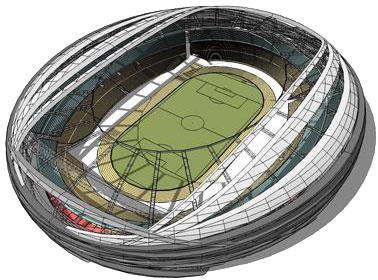 It won't be as mystic when done, probably, as construction materials are typical – reinforced concrete for two-tiered stands around the pitch, steel trusses for roof construction and membrane as coverage.
Cost estimates say of 1 trillion rupiah, which may sound stunning, but may be converted to $100 million or €80 million – a sum that wouldn't be possible to finance 50,000-seater in most Western countries. Perhaps this is why PDW Architects don't like to compare their stadium to Allianz Arena or Beijing Olympic Stadium, as some media suggest. As they say – meaning for Indonesia and the appeal may be like one of those stadiums, but they cannot be compared directly for technical solutions.