New stadiums: Three-pack from Poland
source: StadiumDB.com; author: michał

Zielona Góra has a stand that actually dances with the crowd (wasn't safe, so they closed it for a while). Sopot has a stand that has a shape no other stadium has. While Gliwice… we just needed this one to make three.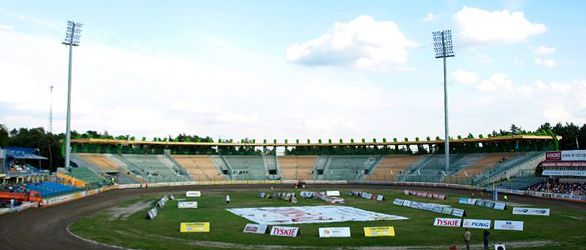 When it was opened in 1926, the city was in Germany and the ground was mostly for athletic events. But after WWII this part of the country was transferred to Poland with name translated from Grünberg to Zielona Góra (both meaning Green Mountain). The stadium started being used primarily for speedway racing, though it retained its football function for years to come, losing it lately as games were relocated.
First remodeling came with the speedway track creation in 1946, though a professional one didn't arrive until 1957, when it also received a tower for the judges. First significant terraces came in 1963 and could accommodate some 10,000 people. New office and drivers building followed in 1974 on the northern side and was demolished in 2007, replaced by a new VIP stand that received similar infrastructure as well as corporate facilities. This is also when first races with floodlights were played and in 2008 first giant screen came.
In early 2010 construction of first such big stand started – precast concrete on the south-eastern curve was to hold 6,000 seated spectators and was instantly taken over by local ultras after opening. Then it became obvious that the structure has flaws, when roof (although a very small one) started shaking along with fans when they were jumping. The structure was reinforced, but with little improvement.
In 2012 another phase of the redevelopment began with the new curve being extended to the southern straight. Works are currently ongoing.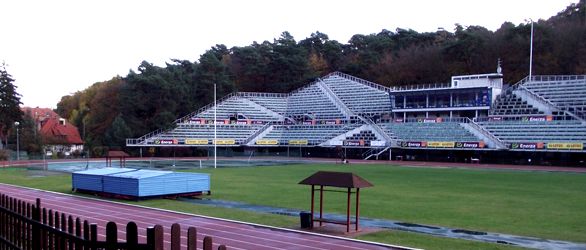 Or simply Forest Stadium in Sopot, as the name is translated. When it was opened in 1926, the name was completely different and so was the shape. But from the start its location in Dolina Owcza (Sheep Valley) with three sides enclosed by natural wooded hills provided for a very charming ambiance.
Though potentially capable of hosting football, this venue is used solely for athletic and commercial events. Instead of a football pitch one may find several other fields inside the running track, with tennis court to start with.
The northern side of the stadium is its most distinctive one. Though the massive stand holding most of 5,000 seated spectators is supported by natural hill, it isn't a regular structure concrete laying directly on land. It's a giant steel frame with irregular sections and staircases and very big slope. This gives it not only great sightlines for events, but also a unique appearance.
Opposite is a very modest section with just several dozen seats and a charming house, current headquarters of the Sopot Athletics Club (SKLA).
In 1960s a village football team Unia Ostropa player host to the football pitch at Nowotki St. (now Lekarska St.). In 1972 it was replaced by Carbo Gliwice who made this ground their fourth home after previous pitch was flooded. The club received partnership from strong mining company from Gliwice and thanks to this partnership managed to reach 3th tier in Polish football in 1980s, also receiving new stands at the stadium.
On one side of the field there are two conjoined sections of 430 seats each, next to the club building, and on the other modest three-step terracing is located with 165 seats in the central part. All seats were installed as part of the only major renovation so far. Due to the collapse of the mine in 1991, the club never managed to become a major power and suffered from numerous relegations.